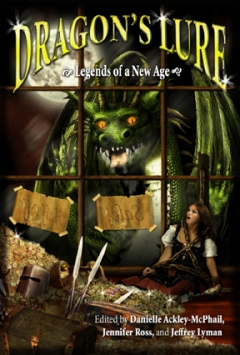 featuring "Perchance to Dream", a story of the Old Races
edited by Danielle Ackley-McPhail
Here There Be Dragons!

What is the deal with virgins?
Why would a dragon want to swallow the moon?
Is a bed of treasure really to be desired?

At long last a collection that delves into the lore on what lures a dragon. We bring you nineteen tempting tales of draconic wonder—along with the lyrics to two classic and much-beloved songs—certain to broaden your understanding of these legendary creatures that have fascinated mankind throughout time and across cultures.

Trek across a dragon's dream space in C.E. Murphy's Perchance to Dream…Take wing in Misty Massey's Flying Away Home…and the burning question in Vonnie Winslow Crist's Weathermaker…got milk? Everything you wanted to know about dragons, but no one has survived to ask…
With stories by John Grant, Vonnie Winslow Crist, Patrick Thomas, James Chambers, Misty Massey, Danielle Ackley-McPhail, Mike Penncavage, C.E. Murphy, Hildy Silverman, Bernie Mojzes, Randy Farran, C.J. Henderson, Claire Stephens McMurray, Robert E. Waters, D.C. Wilson, Jean Marie Ward, Keith R.A. DeCandido, Anna Yardney, Jeffrey Lyman, James Daniel Ross, and David B. Coe, this is a tome you are sure to treasure!
CE Murphy
ISBN-10: 0982619790.
ISBN-13: 9780982619797.