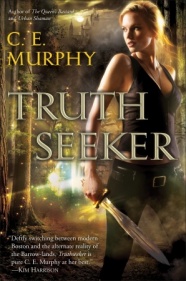 ACROSS TWO EXTRAORDINARY WORLDS, TRUTH IS THE DEADLIEST MAGIC
Gifted with an uncanny intuition, Lara Jansen nonetheless thinks there is nothing particularly special about her. All that changes when a handsome but mysterious man enters her quiet Boston tailor shop and reveals himself to be a prince of Faerie. What's more, Dafydd ap Caerwyn claims that Lara is a truthseeker, a person with the rare talent of being able to tell truth from falsehood. Dafydd begs Lara to help solve his brother's murder, of which Dafydd himself is the only suspect.
Acting against her practical nature, Lara agrees to step through a window into another world. Caught between bitterly opposed Seelie forces and Dafydd's secrets, which are as perilous as he is irresistible, Lara finds that her abilities are increasing in unexpected and uncontrollable ways. With the fate of two worlds at stake and a malevolent entity wielding the darkest of magic, Lara and Dafydd will risk everything on a love that may be their salvation—or the most treacherous illusion of all.
[book_excerpts]
CE Murphy
August 31, 2010.
ISBN-10: 0345516060.
ISBN-13: 9780345516060.
Excerpts: