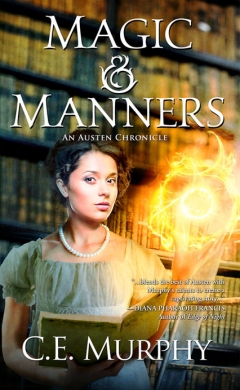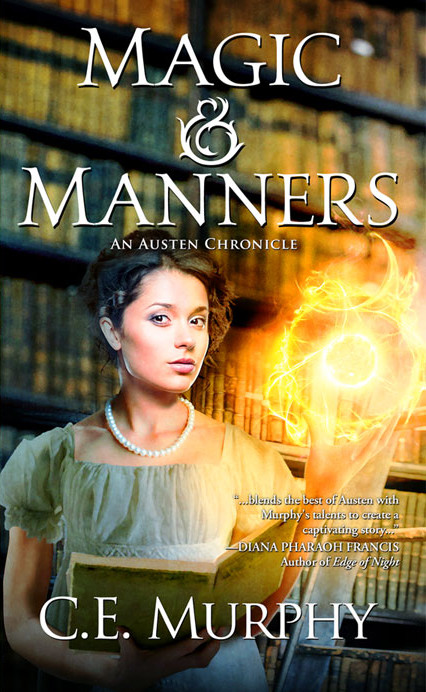 It is a truth universally accepted that well-bred members of Society are not beleaguered with magic.
For Elsabeth Dover and her sisters, that truth means living in a perpetual state of caution, never using their sorcerous gifts in public. Elsabeth chafes under the stricture, but never enough to risk the possibility of good marriages for her sisters… until she meets handsome, arrogant Fitzgerald Archer.
Elsabeth, attracted to Archer's wit and offended by his manner, strives to keep her youngest, impetuous sister's use of magic in check so that their eldest sister, Rosamund, might find happiness with Archer's wealthy friend Mr Webber, but when Elsa fails to keep young Leopoldina in line, Archer's disapproval of the family taint means an abrupt end to Rosamund's hopes, and leads to a terrible discovery about the price of magic…

MAGIC AND MANNERS for Kobo!
MAGIC AND MANNERS for Kindle!
MAGIC AND MANNERS for Nook!
MAGIC AND MANNERS for iTunes!
MAGIC AND MANNERS print edition on Amazon!
MAGIC AND MANNERS print edition on BN.com!
MAGIC AND MANNERS audio book on Audible!
With apologies to Jane Austen, I present to you MAGIC & MANNERS, which is what happens when I get it into my head to wonder what PRIDE & PREJUDICE would be like if it was not a lack of wealth that beleaguered the Bennet sisters, but rather an excess of magic…
The first chapters were originally published on my blog, and are now listed below.
CE Murphy
ISBN-10: 1613171059.
ISBN-13: 9781613171059.
Excerpts: