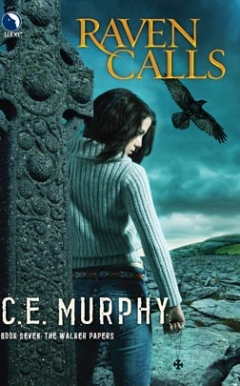 RAVEN CALLS
Book Seven of the Walker Papers
Being bitten by a werewolf is the least of Joanne Walker's problems. Her personal life in turmoil, her job as a cop over, she's been called to Ireland by the magic within her, and though Joanne's skills have grown by leaps and bounds, Ireland's magic is old and very powerful…
I wasn't a werewolf when I woke up. Fuzzy logic said I'd left the States on Sunday morning, flown all day, and arrived in Ireland early Monday morning, thus having skipped the night of the full moon entirely and saving myself from shifting into a monster of yore. That was very fuzzy logic, but then, the whole not being a werewolf thing supported it. Besides, who was I to say an ancient curse wouldn't work that way, when magic by its very definition defied the laws of physics. I left the plane grateful to not be furry, and, aware of the advantages of having been born in Ireland, slipped through customs on the European Union passport holders side.
Back of the Book
Something wicked this way comes…
Suddenly, being bitten by a werewolf is the least of Joanne Walker's problems.
Her personal life in turmoil, her job as a cop over, she's been called to Ireland by the magic within her. And though Joanne's skills have grown by leaps and bounds, Ireland's magic is old and very powerful….
In fact, this is a case of unfinished business. Because the woman Joanne has come to Ireland to rescue is the woman who sacrificed everything for Joanne–the woman who died a year ago. Now, through a slip in time, she's in thrall to a dark power and Joanne must battle darkness, time and the gods themselves to save her.
CE Murphy
ISBN-10: 0373803435.
ISBN-13: 9780373803439.
Excerpts: