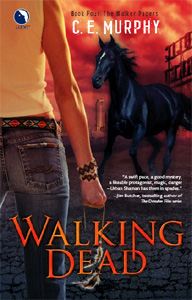 Book Four of the Walker Papers
The undead have just crashed Joanne Walker's Halloween party, and she has to figure out how to break the spell that lets ghosts and zombies roam the earth. Unfortunately, there's no shamanic handbook explaining how to deal with the walking dead…
Back of the Book
For once, Joanne Walker's not out to save the world. She's come to terms with the host of shamanic powers she's been given, her job as a police detective has been relatively calm, and she's got a love life for the first time in memory. Not bad for a woman who started out the year mostly dead.
A big chunk of a man in a blue satin evening gown with a matching bolero jacket edged through the crush, trying not to step on anyone. I escaped the clowns and waved my mask in greeting. "Hey, Billy. You look great."Billy Holliday, paranormal detective extraordinaire—he saw dead people—my work partner, and overall one of the solid, reliable linchpins of my life, looked me up and down and said, "You look surprisingly naked."
But it's Halloween, and the undead have just crashed Joanne's party.
Now, with her mentor Coyote still missing, she has to figure out how to break the spell that has let the ghosts, zombies and even the Wild Hunt come back. Unfortunately, there's no shamanic handbook explaining how to deal with the walking dead. And if they have anything to say about it—which they do—no one's getting out of there alive.
CE Murphy
August 18th 2009.
ISBN-10: 037380301X.
ISBN-13: 9780373803019.
Excerpts: