Want to know what I'm doing this year? Or at least, what I'm trying to do? Here. Let me tell you!
Publishing MAGIC & MANNERS
I'm in the very last stages of getting MAGIC & MANNERS out into the world–the last bits (the ISBN bar code, mostly) are being generated for the cover, it'll be handed off to a professional to convert it into e-books, and it's the first book I'll be publishing through the Ingram self publishing system, which will theoretically make it order-able in bookstores all around the country/world. Official pub date is February 16, 2016, and the audio book will be out right around then too! And I can't STAND not showing off the cover, so this post is also a Cover Reveal!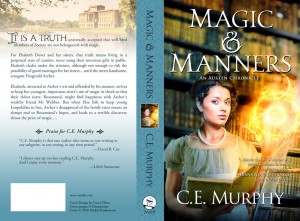 (SQUEE!!!! Cover art by the magnificent Tara O'Shea at Fringe Element!)
Finishing REDEEMER
That means finishing the draft, revising it to get fix all the NOTE:s left in it (which include things like description, slang, word repetition, just all sorts of things), then sending it to my editor, who will tell me everything that's wrong with it. Then I'll fix it, send it back to her, give it to my parents to beta-read, get line edits/polishing details, do THOSE, send the manuscript to the copy editor, do THOSE, get the book laid out and e-files made for it, get the cover art finished, get ISBNs, get it out to the Kickstarter backers, perhaps see about submitting it for proper reviews, and finally get it out into the reading public's hands.
Revising BEWITCHING BENEDICT
which involves everything listed above from "fix it, send it back to her" and goes on pretty well through the end of that paragraph. Perhaps not review copies for that. Maybe not even print copies right away, IDK.
Revising IMMORTAL BELOVED
closer to REDEEMER than BENEDICT, except it needs to go through two pre-editorial revision passes, for Reasons. With luck, the revision process on both of these books will be something I can do while REDEEMER is with Matrice.
Writing SKYMASTER
which is the last of the YA quadrology I'm writing for my nephew, and which may turn out to be a Kickstarter project, which entails everything under the 'Redeemer' header except for for FOUR BOOKS AT ONCE.
Writing KISS OF ANGELS
the Grace O'Malley novella, & another 8 or so Old Races short stories (get them HERE first!), and overseeing production on one, possibly two (depending on how the short story project goes) Old Races short story collections.
Writing
the 2nd Walker Papers/Skinwalker crossover novella with Faith Hunter
Revising
the epic fantasy proposal
Writing
the climate change series proposal.
Writing
if I have _time_ after all that a sequel to either REDEEMER or MAGIC & MANNERS or BEWITCHING BENEDICT ahahahahahaha