Thing One: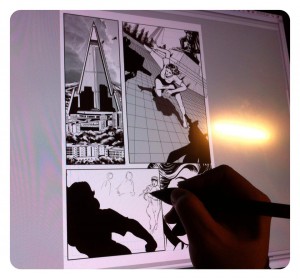 Val is working hard on the GEMMA FADE pages, and gave me permission to post a teaser page. :) I tell you, sending a script out and getting drawings back is one of the niftiest things EVER. :)
Thing Two: A link to some fudge. Just in case you need some. :)
Thing Three: The STONE'S THROE copy edits have been delivered! Soon! SOOOOOOOOOOON! a pulp fiction novel by yours truly will be available to readers everywhere! :)
Thing Four: This is a truly terrific fanvid to Nicki Minoj's Starship. Really honestly terrific, go watch it.
Thing Five: I'm starving and gonna go find something to eat. (Look, I didn't say they were 5 *scintillating* things, did I? No!)