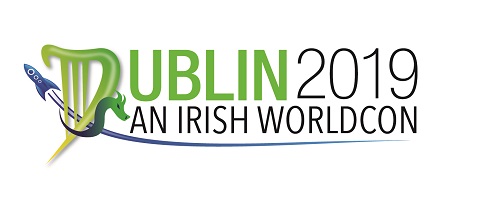 Dublin 2019 Worldcon schedule!
Here are the formal (and some less formal, but already-booked) places I'll be for Worldcon 2019 in Dublin! YAY!
The popularity of Anti-Heroes in Comics
Format: Panel
15 Aug 2019, Thursday 11:30 – 12:20, Odeon 3 (Point Square Dublin)
Deadpool, Harley Quinn, The Punisher, Ghost Rider: in many ways insane, evil individuals – hardly what we would call heroes! And yet they are some of the most popular and interesting comics characters around! Are they better-written characters (and if so, why)? Do readers, and creators, need a counterpoint to all the feats of noble heroism to which action heroes are typically inspired.
Reading: C. E. Murphy
Format: Reading
15 Aug 2019, Thursday 19:30 – 19:50, Liffey Room-2 (CCD)
War Room Meetup
Format: SQUEEEEEEEEEE!!!
16 Aug 2019, Friday 09:00 – 12:00
Which Comic Was Your Manual?
Format: Panel
16 Aug 2019, Friday 15:30 – 16:20, Odeon 2 (Point Square Dublin)
We ask our panel of comics professionals what comics,  graphic novels, and series they regularly use as reference and for inspiration. Who do they personally consider to be the comic book greats and why? And are these works useful to everyone, or just to comic creators?
Autographs: Friday at 17:00
Format: Autographing
16 Aug 2019, Friday 17:00 – 17:50, Level 4 Foyer (CCD)
Comic art: a buyer's market
Format: Panel
17 Aug 2019, Saturday 11:30 – 12:20, Alhambra (Point Square Dublin)
There are far more artists trying to get into mainstream comics than there is work for them to do. This means that firms always have the advantage when they're dealing with new artists. What are the less obvious areas where it's possible to find comics work, and how do you avoid being taken for a ride?
Saturday Night Dinner
booked :)
Fantasies of Irish emigration
Format: Panel
18 Aug 2019, Sunday 12:00 – 12:50, Wicklow Room-2 (CCD)
Urban fantasy abounds with characters from Irish mythology and folklore, but most of these stories are set in London or America rather than Ireland itself. The panel will examine the influence of Irish culture on urban fantasy and the abiding popularity of Irish mythology across the diaspora.
Trailblazer: Anne McCaffrey's legacy and legend
Format: Panel
18 Aug 2019, Sunday 17:00 – 17:50, Wicklow Hall-1 (CCD)
Dragons and genetic engineering, psychics and aliens, opera and communication crystals, and even a unicorn girl: Anne McCaffrey's books were as unique as the woman herself. Join us for a celebration of the first woman to ever win a Hugo Award for fiction and a Nebula Award.
Kaffeeklatsch: C. E. Murphy
Format: Kaffeeklatsch
19 Aug 2019, Monday 10:00 – 10:50, Level 3 Foyer (KK/LB) (CCD)