So yesterday was the 200th birthday of Joseph Sheridan Le Fanu, Irish author of such gothic classics as UNCLE SILAS and CARMILLA. Swan River Press, a small Irish press specializing in gothic horror and half-forgotten Irish authors, has done a rather splendid celebration of Le Fanu, including
– a track at last weekend's Eurocon
– a walk through Dublin with Le Fanu's life & career as the path
– a lecture last night by Le Fanu expert Jim Rockhill
– and the release of DREAMS OF SHADOW & SMOKE: Stories for JS Le Fanu, a collection of short stories written in homage to Le Fanu's work
…all of which comes to me because one of Le Fanu's most famous stories is Green Tea, and my friend Brian (proprietor of Swan River Press) asked me if I could make green tea cupcakes for the lecture last night.
So I did. :) I'd never made them before and they turned out very nicely, and Brian asked me to document the making of them, so there's a bunch of pictures behind the cut. :)
ETA: Oh, recipes, on request: I used this green tea cake recipe (substituting buttermilk for the yogurt, because it's what I had (plain yogurt, buttermilk & sour cream are all 1:1 exchangeable in baking)) & this green tea buttercream frosting recipe. :)
I have never made something so green. Both my son, from whom it would be expected, and my husband (from whom it would not be, what with him being a chef), said, "Ewww" when they looked at the batter. That's a lot of matcha powder!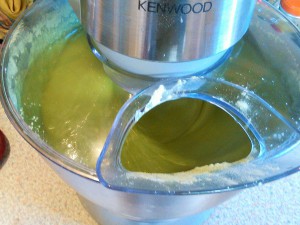 Ready to go into the oven!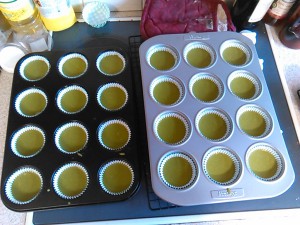 Fresh out of the oven.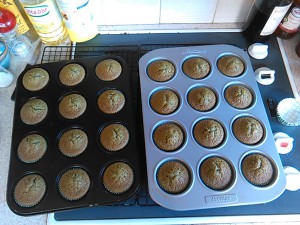 Ready to be frosted!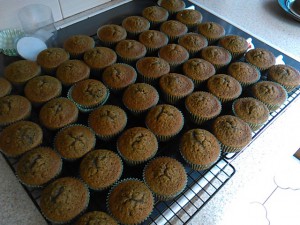 Greeeeeeen frosting.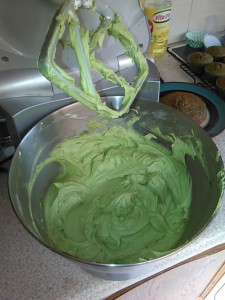 An expert taster!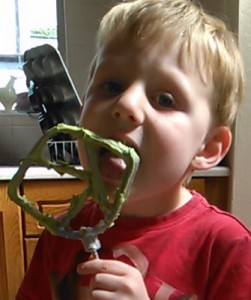 The finished cupcakes (& a small cake for investigating the look of the insides :)).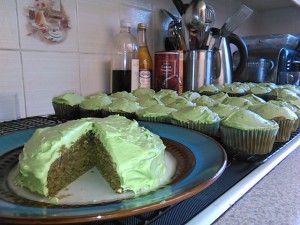 Brian was positively giddy over them, and everybody seemed to enjoy them, so it was an effort well worth it! :)