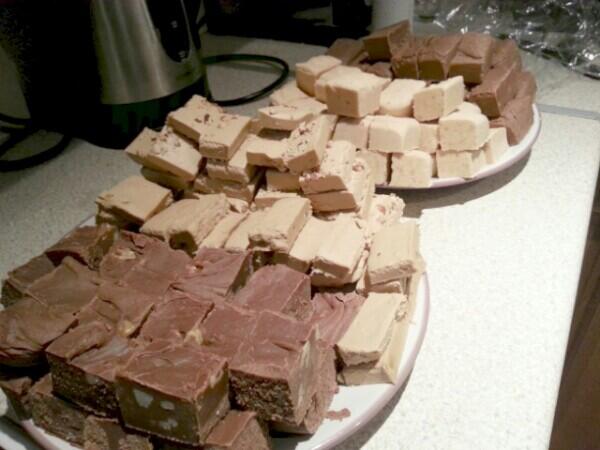 Yesterday we went to Dublin to do any shopping that could be done in the real world. I was moderately successful; Ted was not. He was, however, very, very tired after tromping all over hell and breakfast without finding anything. Poor guy.
I had some kind of story I was going to tell about the shopping, but I seem to have forgotten it. Unless it was the fact that when I stood to get off the bus, coming home, the bottom fell out of one of the bags I had, and everything in it fell to the floor. The woman in the seat next to me, trying hard to be helpful but not understanding that the bottom had fallen out of the bag, started picking things up and putting them back into the bag, so they kept falling on my feet.
I am not, I confess, feeling wildly in the Making Goodies mood this year. I have a few friends who have Special Food Needs for whom I wish to cater, but overall my enthusiasm is pretty low. Possibly I have too much on my plate, or maybe it's just that I've made 23402958659 jars of apple stuff already this year and am sort of fooded out.
But I've just made my first batch of vegan fudge, primarily for the dairy-and-egg-allergic son of a friend. Five seconds after I poured the last ingredient in I had Several Ideas on how to improve it next year, but it should be fine for a six year old (and the other egg-allergic adult friend I have who is also benefiting from this experiment will likely be more discerning but not complaining :)), and while I believe it'll want keeping in the fridge for best texture, it's setting up better than I thought it might, so I'm pretty pleased with it as an experiment.
Because I was getting the ingredients for that anyway, I'm making a batch of dairy-free fudge for another friend, too, and then a batch of regular fudge to send along with the Specialty Fudges so the snowflakes don't have to share with the rest of their families. :)
Aside from that, though…meh. It just seems like a lot of work for things that I'm likely to end up eating myself and would rather not.
(clearly an alien has taken over my brain. i'm sure it'll return it to me soon, and i'll get in the goodie-making mood…)