(whoa i thought i'd posted this months ago but it's been sitting half finished in my queue! i discovered this because i finally opened the caramel apple butter last night and OH MY GOD it's good! and somebody asked for the recipe so i went off to find it and woe! it hadn't been posted!)
My sister made a bunch of apple butter the other day (with apples I gave her) and although I don't really *like* apple butter (or don't remember liking it; I haven't had it since I was about eight) I'm now apparently bent on making some myself. I mentioned this last night to a friend, who said she'd had toffee apple butter and it had been wonderful, so then I got the idea to make several kinds of apple butter, and have found recipes for caramel, honey, maple and spiced apple butters.
I've started the spiced recipe in the slow cooker, as it's, y'know, a slow cooker recipe O.O and we'll see how that goes. It's an experiment. And I might do the caramel one today too, because it claims it doesn't actually take very long, although…I'm not even convinced it's apple butter if it doesn't take long. :) Still, I mean, what can it hurt, it's not like I don't have bushels and bushels of apples to do something with… :)
Anyway, this post will no doubt not actually get posted until I have results, so…read on for results! o.O :)
(the next day)
Ooh, I've experimented my way into a really nice batch of maple syrup apple butter. The recipe is as follows:
Kit's Maple Apple Butter
4lbs prepared (peeled, cored, sliced) tart apples
1.5 c apple juice/sweet cider
1 cinnamon stick (optional)
8 oz maple syrup
1.5 tbsp maple extract
3 c white sugar
1 tsp salt

Put apples, cider and cinnamon into a large pot, cover, and boil until the apples are soft (about 30 minutes), stirring occasionally. Remove cinnamon stick and puree the mix in a blender/food processor/whatever until smooth. Turn into a deep, flat enamal-lined pan & put into a pre-heated oven at 325°F (150°C, 130°C fan assisted) and roast, stirring very occasionally, for 1-2 hours, until the puree has reduced by half.

Remove from oven. Stir in syrup, maple extract, sugar and salt. Return to oven for 1.5 to 2 hours, stirring slightly more frequently. Jar as you normally would, or refrigerate and be prepared to eat a great deal of apple butter over the coming weeks. Makes around 48oz/6 8oz jars.
Apple butters: honey, maple, spice & caramel. I love how they're such different colors!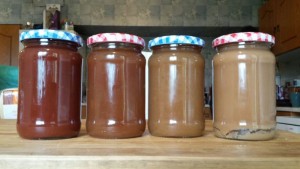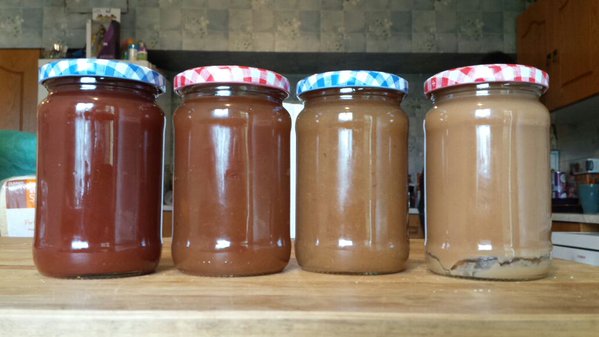 for Honey Apple Butter: the above process, sans maple extract & substituting about 2 cups of honey for the maple syrup
for Caramel Apple Butter: the above process, sans maple flavourings, along with this caramel recipe
for Warm Spice Apple Butter:
4lbs prepared (peeled, cored, sliced) tart apples
8 c apple juice/sweet cider
3 cinnamon sticks/2 tsp cinnamon
1 tsp anise seeds (if you like that sort of thing)
1/2 tsp grated/ground/powdered cloves
1/2 tsp nutmeg
4 c white sugar
1 tsp salt
Process as above. I might feel this one needs some work but I haven't, uh, worked on it yet. I'll repost next year if necessary. :)