About 45 minutes ago I said I thought I was going to go invent some apple pecan cookies, and did. It's possible I should invent baking recipes more often. This is my third or so original recipe and so far I'm three for three…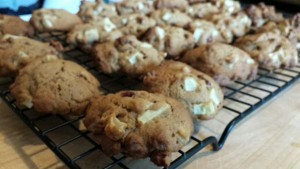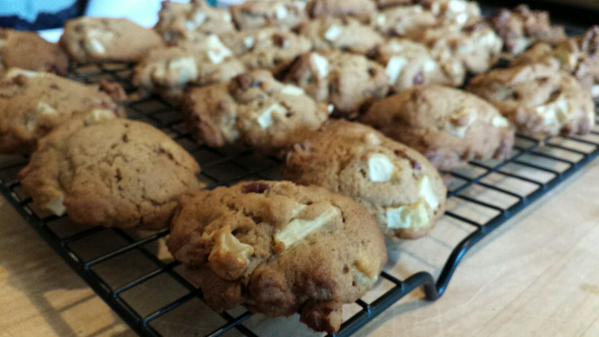 Kit's Apple Pecan Cookies
1/2 c soft butter
1/2 c brown sugar
1 egg
1 tsp vanilla
1/4 tsp salt
1/2 tsp baking soda
1 tsp cinnamon
1 1/3 c flour
1 c chopped toasted pecans
1 c peeled, diced apple
Cream butter and sugar; add egg & vanilla. Add dry ingredients. Stir in pecans & apples. Bake 12 minutes at 350° F. Makes approximately 24 cookies.
Eat. Try to leave some for the other people in the house.
Baker's Notes:
I used 1.5c flour and am out of vanilla; the cookies I've made are sliiiiiightly more crumbly than I would like, so I think the addition of the vanilla and the slight reduction of flour are probably key to making them ideal.
These aren't super sweet cookies, which is what I was going for, but I immediately considered the possibility they needed a powdered sugar glaze/drizzle. Alternately, I might add a quarter cup of white sugar next time, to see if I can get a slightly chewier rather than cakier texture. But they're pretty darn good. :)