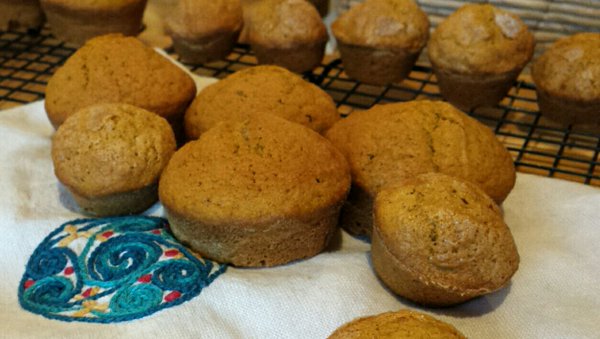 Kitsnacks: Pumpkin Muffins
I made a batch of absolutely gorgeous pumpkin muffins this morning. Light, fluffy, tender, just the right amount of sweetness.
The dog ate half of them.
#ragemachinemurderbot
Baloo's Favourite Pumpkin Muffins:
1 (15 ounce) can pumpkin puree
4 eggs
1 cup melted butter
2/3 cup water
2 cups white sugar
3 1/2 cups all-purpose flour
2 teaspoons baking soda
1 1/2 teaspoons salt
1 teaspoon ground cinnamon
1 teaspoon ground nutmeg
1/4 teaspoon ground ginger
Whisk wet ingredients together in a large bowl. Whisk dry ingredients together in another bowl. Whisk dry ingredients into wet ingredients until barely mixed. Scoop into buttered, floured muffin tins with a large spoon, not quite filling the tins to the rim. Sprinkle some cinnamon and sugar on top if you think of it. Bake at 375°F/180°C for 18-22 minutes, or until a skewer comes out clean.
Makes about 30 muffins. Would also make a very nice loaf, I expect, but I didn't do that.