I went to my sister's musical last night, and having foolishly failed to check the train times, discovered at 10 o'clock, on my way to the train station, that there was not a half ten train, only a 10pm one and a half eleven one. So I ended up wandering around city centre, getting some extra steps in and taking crappy late night phone camera pictures, which I will now share with you. :)
The General Post Office, commonly referred to as the GPO, on O'Connell Street. This was the headquarters for the leaders of the Easter Rising of 1916. The building was, as it turned out, completely destroyed, leaving nothing but this facade. There are still bullet holes in it.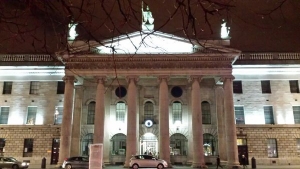 Pretty fricking posh for a bank, mate. This is the Bank of Ireland building, which used to be the Irish Parliamet buildings back when Ireland was allowed one by the British. Eventually the Bank of Ireland bought it, although I guess it's not actually used as a bank anymore, either. I've not been inside.



Immediately across the street from the Bank of Ireland is Trinity College.


Looking down Fleet Street into Temple Bar.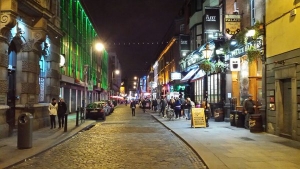 Rainbows on the River Liffey, with the International Financial Services Centre in the background.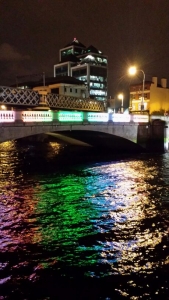 The front and back of what turn out to be the Custom House, although Twitter had to tell me that.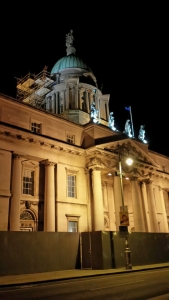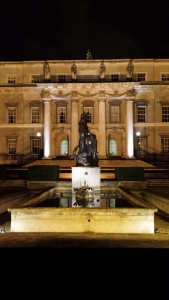 I was going to go down to the Seamus Heaney Bridge and the CDC, but it started spitting rain, so that's the sum of my late night photogrphy tour of Dublin. :)