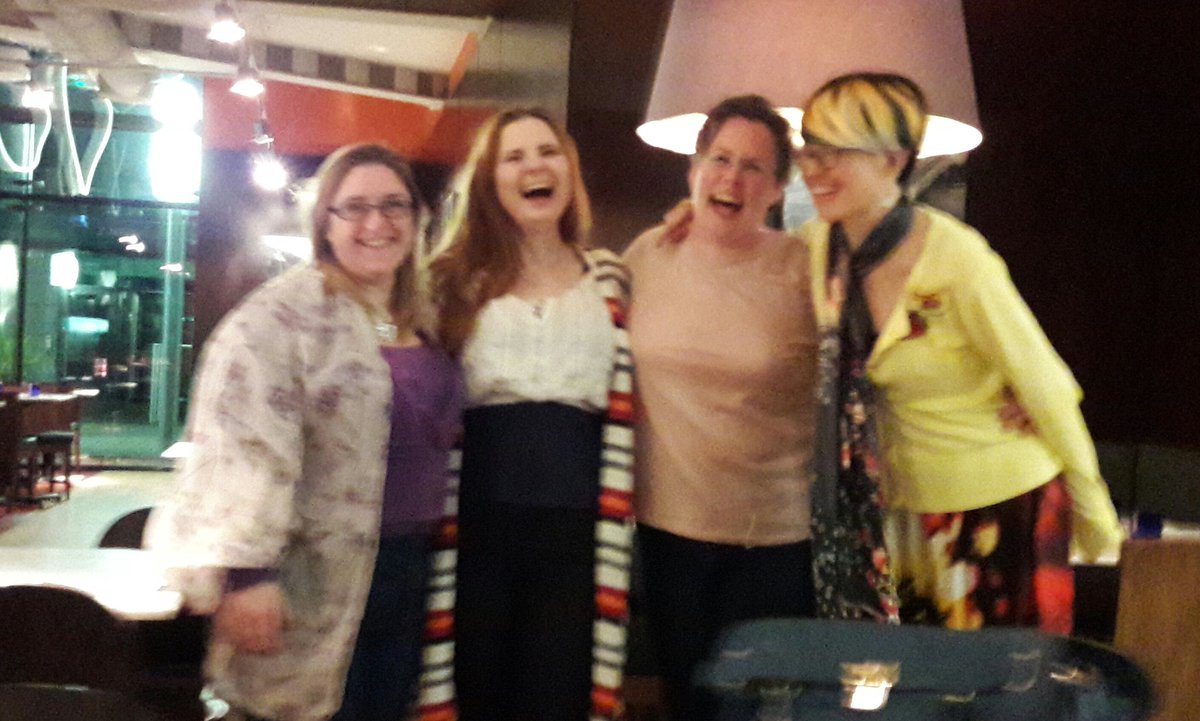 It's been a week of missed connections in the funniest of ways. :)
Last week I was going out to work, which my friend Sarah and I have been meeting up to do in this sort of inept way–neither of us has WhatsApp notifications turned on because they're too distracting, but also neither of us ever thinks to text or call, so we attempt to communicate in what amounts to telephone tag except both of us have the phones with us all the time.
In this scenario, I am taking public transport and it is Pouring Rain.
Me: Hey I can get out to work
Sarah, 90 minutes later: oh great! I have to be at my new house waiting for the gas man from 1-5 if you want to come over and sit in the cold or I can meet you later!
Me, 15 minutes later: I can come!
Me, 40 minutes later, standing in the rain, banging on the door and getting no response, WhatsApps: hey i'm here
Me, 3 minutes later: *bang bang bang* / Hi hey I'm here?
Me: I'm here? Hello?
Me, 2 minutes later: HEY THIS IS A *PHONE* I COULD *CALL* *calls*
Sarah, sounding like I've woken her up: Hello?
Me, suddenly afraid my number is, like, no longer in her phone or something: It's Catie? I'm at your house?
Sarah: *indistinct*
Me: Hello?
Phone call goes dead. A moment later, a message arrives:
Sarah: OH MY GOD NO MY PETAL I THOUGHT YOU MEANT *TOMORROW* I AM AT THE LIBRARY (hence the super quiet indistinct speech of earlier) I WILL COME TO YOU IMMEDIATELY
Me: OH MY GOD NO IT'S POURING RAIN STAY WHERE YOU ARE IT'S NBD
Sarah: I RUSH TO YOU
Me: BUT IT'S POURING RAIN
Sarah: CAFE?
Me, seeing a bus that will get me to the cafe: YES CAFE
Anyway, so she was meeting someone ELSE at her house the next day and just misread the text as saying I was also going to be able to go out and work the next day and thought "hooray we can all work together!" except…no. That wasn't what was happening. *laughs* But we got some work done, and got to see each other, which was what counted!
And then LAST NIGHT–so okay we've got double-feature tickets to Infinity War/Endgame on the 24th, right? Infinity War is at half eight, midnight showing of Endgame because that's how we roll. :) And a couple of friends are joining us, hooray! It's gonna be great!
Except last night one of our party texted me at 8:07pm with "I'm here, laden with snacks, where are you?"
I was like "um. at home? this is catie?" because I was convinced she was meeting someone else for a movie last night, since the one we had a date for wasn't for TWO FULL WEEKS, and just had texted me instead of her date for the night.
But no, she had the right number, just the wrong night. So I threw on my shoes and ran for the door and 31 minutes later arrived at the theatre so we could go see Captain Marvel together, because she hadn't seen it yet and how terrible to be left bereft at the movies when you expected an all-nighter with friends!
It was great fun and very very funny and I'm very glad I went and anyway, hell of a week of missed connections. :) :) :)