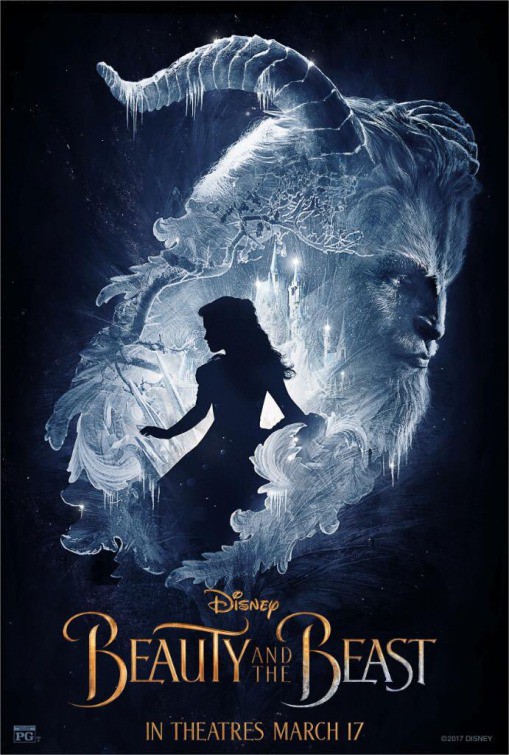 Picoreview: Beauty and the Beast
Picoreview: Beauty and the Beast: exceeded my expectations by a considerable margin.
(Also, irrelevantly, I was sitting between two little girls who sang all the songs they knew, and an older woman who kept wiping her eyes, both of which I found pretty charming. :))
The showing I went to go see originally was sold out, which meant I basically spent four hours wandering vaguely around downtown Drogheda (spoiler: it hasn't got 4 hours worth of entertainment in it) so I could go to the next one. I was pretty sure it wasn't going to be worth four hours of puttering around.
I was, in fact, feeling pretty…cautious about it, overall. I hoped I'd like it. I wasn't sure. The animated film has problems, especially with the timeline, that I figured would be extant in the live action version as well. I mean, obviously it was a *chance* to fix those problems, but every time I think an adaptation is going to take advantage of BEING AN ADAPTATION and FIX PROBLEMS WITH THE ORIGINAL, it doesn't. So I didn't have much faith.
But the screenplay was actually much stronger and dealt with…basically every issue I had with the animated movie. I was astonished. It had *other* problems, new ones of its own, but that's what I want out of an adaptation, as expecting perfection is unreasonable. :)
Having JUST written my own version of BatB ([begin shameless self-promotion] ROSES IN AMBER [end shameless self-promotion]) there were moments early on where I went "oh but that's not the way the story went," but I got over those swiftly and settled back in to this being a new, improved version of Disney's Beauty and the Beast. And I really do think it was improved.
I shall have many thoughts, but not many spoilers, behind the cut.
I don't even know where to start.
Luke Evans was born to play Gaston. He bordered on appealing, which I didn't think was possible with the character. And I had a real fear they would cut my favourite line in the entire movie, "Screw your courage to the sticking place!" which is in his song "Kill the Beast," but it remained. (I'll never forget the thrill of visceral joy I felt when I first heard that line in the song, lo these many years ago!)
Josh Gad's LeFou was a lot better than I expected him to be, in many, many ways. He actually has a story arc and character development. It's a small arc, but the fact that he has one at all really pleased me.
I didn't realize Kevin Kline was playing Maurice, and spent fifteen or thirty seconds going "wait who is that" before I recognized him. He was very good in the role (of course he was), and the role itself is…so much better. So. Much. Better. Than the animated film's. SO much better.
I was less enamored of Ewan McGregor's Lumiere than of Jerry Orbach's by a…considerable…margin. Considerable. Part of it is just that I hated both Lumiere and the Potts's animation. I don't know if it's uncanny valley or just creepy design (I'm inclined to feel creepy design: I dislike the Mrs Potts teapot toys violently, too, I just think they're gross.) but I do not like it at all. Emma Thompson's Mrs Potts, however (although not Angela Lansbury, which is no fault of her own), was *fine*, for me, vocally, whereas I just felt McGregor's Lumiere was…awful.
I thought Ian McKellan's Cogsworth was underused, but not as distressing in animation terms as the other two. I was really disappointed with Stanely Tucci's over-the-topness. I didn't feel like that was necessary at all, particularly coming off the Hunger Games films.
Lest you think I just hated all the animated characters, let me pause in my litany of dislikes to say I really *loved* Gugu Mbatha-Raw's Plumette, whose animation was just *gorgeous*, and whose Frenchness was not simply there to be Outrageous. They also did a really nice job of demonstrating how the servants were gradually losing their humanity, in a way that the animated film really didn't touch.
Having gotten all of the side characters out of the way, there is, of course, the titular couple:
Emma Watson really should have worn a corset, or everybody else should not have, but really, she should have. It didn't have to be tightly laced. It just needed to make her clothes lie correctly. Also, I found her natural hair when virtually nobody else had it to be…really odd. She sang well enough, though either the sound editing or the soundtrack or her lip synching were slightly off for her first song, which I found…very distracting, and made it harder for me to tell whether she was singing well or not.
Nitpicky details like that aside, she was really very good. There were things about her character that have been shifted, in a really delightful way, from the animated film, and it was pretty fun to watch her deliver some of the original Belle's lines verbatim. Her relationship with the Beast develops a lot more smoothly (still very quickly, but while the argument's been made for the animated film that it's less fast for them than the outside world, the details of the live action version actually makes that a much more *plausible* argument, and if somebody wanted to convince me that's the case, they wouldn't have much trouble doing so) and, in fact, much more believably, which made me REALLY HAPPY. I thought she brought a good combination of compassion and feistiness to the role and there were even some bits of humor in there. :)
The Beast. Oh, the Beast. I'd say 80% of the animation was excellent. 15% of it was pretty good. 5% really stood out badly. Sadly, some of that 5% was in a "new" scene that I think could have been the prettiest (okay, second prettiest, after the ballroom dance) scene in the film if the Beast's animation hadn't been standing out like a sore thumb. But most of the animation was good, and I have to say, he's a very *handsome* Beast. (Vastly more attractive than the prince, but we knew that, didn't we.)
I thought some of his backstory was presented in a very ham-handed way (including, unfortunately, the opening scene), but it was nice to get a little more backstory for him at all, and I thought he did a *very* fine job of gradually bringing on the charm. (That voice. #ded)
AND HE HAD A SONG!
One of my greatest problems with the animated film was that Robbie Benson's beautiful voice only got one damn verse and the Beast didn't have a song of his own. I was THRILLED that this Beast got a song of his own! Hooray!
…that said, I thought all the new music was pretty terrible. I don't know if it's *actually* terrible or if it's just New And Unaccustomed In The Context but I thought it was all pretty bad. It sounded like an uncomfortable marriage of "The Secret Garden" and "Phantom of the Opera". The new verses added into the old songs were fine, even carrying some character development, but the new songs…well, I'm going to see it at least twice more, so we'll see if they grow on me.
The architecture is beautiful, and on the exterior, at least, has at least a degree of period accuracy. And the bit where Belle's going up the tower to find her father is–if you've ever climbed tower stairs in an old castle, you'll probably have encountered their Death Side: the stairs often don't meet on both walls, so there's a terrifying drop on one side. And the terrifying drop was there, which was totally unnecessary for them to do, but they did it, and it pleased me. I realize it's almost all CGI, but I'd love to explore that palace. It was just lovely.
Huh. I feel like I've actually panned it a lot in this review, which is funny, because I was really, really happy with it. It may be that I can't talk about what I liked without going into spoiler territory, though.
I mean, there's stuff like–it's not Sleeping Beauty's castle, in the opening Disney castle thing; it's the Beast's. Which delighted me, but isn't about the *film* so much. And there's an establishing shot of the village where you can see a river winding through the hills, and it's the same river that's in the opening Disney castle thing (just as it was the same river and landscape in Malificent, and, I suspect but need to rewatch to verify, in *some* establishing shot in Cinderella–that river leads to the castle at the heart of the goblin kingdom, people! That river is magic, but those are…those are Disney being smart with its marketing and branding; they're not about this movie in particular, even if I love seeing them doing that.
Yeah. I can't go into details without spoiling stuff. I'm just SO MUCH HAPPIER with the story structure and the through-lines! The characters are much more well-rounded! They did good, by gum! They did good!