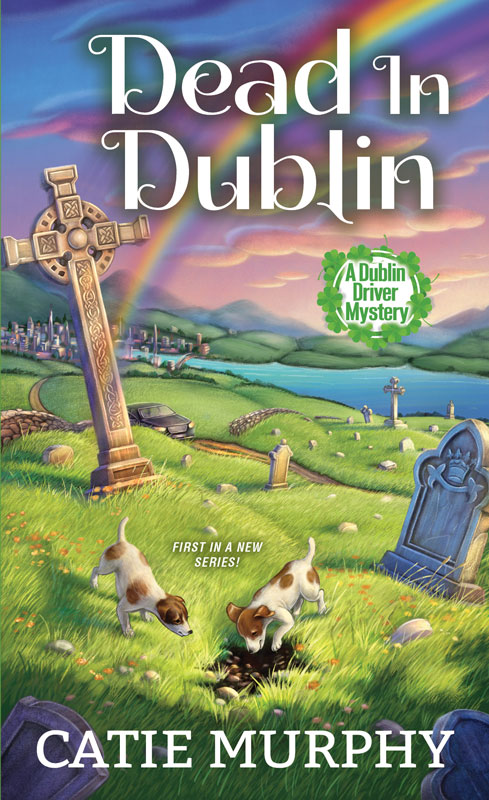 Release Day: DEAD IN DUBLIN
OMG MES AMIS, LOOK! LOOOOOOOOOK! Today is the official release day for the first book in my new cozy mystery series!
In Dublin's fair city, where the girls are so pretty, murder occurs at the feet of sweet Molly Malone . . .

Ferrying tourists around Dublin for the Leprechaun Limo Service makes quite a change after years in the military. Still, Megan Malone is enjoying her life in Ireland. She likes the scenery, the easy pace, the quirky, quick-witted locals. Everything—except having one of her clients drop dead at the statue of fabled fishmonger, Molly Malone.

Most restaurant critics notch up their share of enemies. Elizabeth Darr, however, was a well-loved international star. She and her husband, Simon, had just had dinner when Elizabeth collapsed, and spoiled seafood is the first suspect. The restaurant's owner, worried her business is doomed, begs Megan to look into it. Between her irate boss and a handsome Garda who's both amused and annoyed by her persistence, Megan has her hands full even before she's cajoled into taking care of two adorable Jack Russell puppies (which she is almost definitely not keeping). But if cockles and mussels aren't to blame, can Megan find the real culprit . . .before another fishy death occurs?

DEAD IN DUBLIN is available now!
Amazon || Barnes & Noble || GooglePlay || Kobo
The general idea for the Dublin Driver mysteries–a limo driver who drives herself in and out of murder mysteries–was my husband's (as, for that matter, was the idea for the Walker Papers. Someone once asked me what I'd be doing if I hadn't married Ted. Without missing a beat and without a hint of irony, I said, "Writing different books." ANYWAY. :)). So a while back when an editor asked me if I had any ideas for cozy mysteries, I was like "LET ME STEP RIGHT UP WITH SOME THOUGHTS!"
Writing Megan Malone in this series (I've written 3 of them already, actually) has been great fun. She's an American in Ireland, so I've gotten to use my personal observations and loads of funny stories about being an incomer to Ireland as part of the backbone for these books. I've tromped around parts of Dublin I hadn't ever seen before, getting details right. I've harangued my local friends to make sure I'm using Irish slang correctly (Ruth, Susan and Sarah, particularly, have been SO PATIENT with me). I've written my favourite cafe into the series. It's been great. :)
And also very excitingly, not only is this my first traditionally published book in several years, BUT ALSO if you'll have a look at the by-line, you'll see this is a book by CATIE MURPHY. I genuinely never thought I'd see my day-to-day name on the cover of a book–I write under CE because I never thought 'Catie' looked grown-up enough for a book cover, and I didn't want people to call me by my full name (unless they were Ron Perlman. I have a whole fantasy built around Ron Perlman calling me by my full name. But that's beside the point…), so I used my initials.
But when we were talking about what name the Dublin Driver mysteries should be published under, both my editor and I thought a break from CE Murphy was wise, because CE is so associated with SFF. And, as it happened, because cozies are, well, *cozy*, ie, familiar and comfortable, we thought that 'Catie', which is a quite informal name, actually worked really well for the author name for this series. And I'm RIDICULOUSLY CHUFFED about it!
So I'm overall VERY EXCITED about this new series, and I hope you all will enjoy reading it as much as I've enjoyed writing it! ♥!
DEAD IN DUBLIN is available at the following e-retailers & at bookstores near you!
Amazon || Barnes & Noble || GooglePlay || Kobo