A new short story (technically a novelette, as it weighs in at 16K, which is longer than an official short story but not as long as an official novella :)) has dropped on Amazon Kindle & Kindle Unlimited!
"Wintergate" is set in the same world as my "Beauty and the Beast" retelling, ROSES IN AMBER, and is itself something of a retelling of "The Snow Queen". It was inspired mostly by the pre-made cover art one of my patrons bought me, and I'm really happy with how it turned out!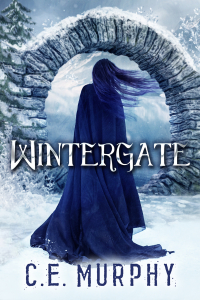 No one has traveled to or from faerieland since the end of the Border Wars, save through the Wintergate, whose power can only be activated on the shortest day of the year. When gatekeeper Emilia loses everything to the Border Kingdom, ice touches her heart and grows within her, until the day comes that she must finally choose between her duty and someone else's loss….
Available now on Amazon Kindle & Kindle Unlimited!