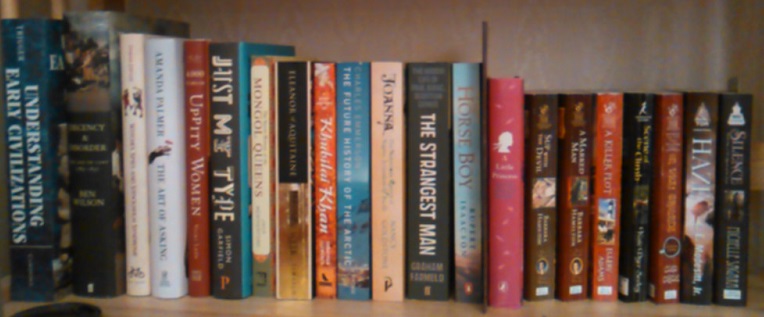 I went to bed around 10 last night and, not at all to my delight, woke up at 10 to 6. I lay around for a while sullenly considering that this was, in fact, the ideal I'm nominally going for: earlyish to bed, early to rise, get some work done before bringing Indy to school and all that.
Except not on a Sunday, dammit.
Anyway, I got up after half an hour or so and spent a couple hours getting increasingly tired while working on an e-book layout, and I've concluded that probably if I can do this on a weekday basis, having to interrupt the work flow to bring Indy to school and then take myself to the gym is EXACTLY what I'll need in order to keep myself going through the morning and into the afternoon. I don't know what I'll do about the almost-inevitable 2pm slump (the obvious answer here would be 'go for a walk') but given the sleepiness cycle, I'd say yeah, this would probably be Just About Right.
Assuming I manage to get to bed right around 10pm ALMOST ALL THE TIME. Well, Catie, who's responsible for that, then, *hmmm*? (Of course, if I get into the habit of the gym, for the first several weeks at least I'm going to be so exhausted that I may fall asleep by 10 whether I mean to or not…)
I went into the bookstore the other day and there are so many books I want to read and I've got so much work to do before I can read any of them. *cries* Also my houseguest is TEMPTING me, TEMPTING ME, I SAY, to watch s5 Orphan Black this Thursday & Friday (the first days of school) and I'm being Drawn Into Temptation. Which means I have to finish up this e-book (which is waiting on cover art and also on me figuring out which button to press to tell it to clean up unused code) and do another set of copy edits by Thursday, which really isn't anything like impossible. It just seems like a lot, somehow.
I was telling someone at Worldcon that I'm basically five years behind in my reading schedule, so pretty much if you had a book come out in 2012 I'm right on it! But I'd like to be reading a little closer to the present. Moop. So I've got KSR's new book, and I still haven't read Ian MacDonald's Luna books and really want to, and I have the second two Anne Lyle (hello, 2012) books to read, and there's another Long Earth book out, and I'm *desperate* to read Emma Newman's Planetfall books, and I have (HELLO, 2012) a Carol Berg duology to read, and those are just what I can think of off the top of my head without checking the TBR shelf, much less going into the bookstore again. *flails* So if I get my edits and things done I'm going to read SOMETHING over the weekend.
(*pauses to check how many books I've read from this year's TBR shelf. 10 of the 41 I've read this year, which isn't bad, actually. It leaves me with 13 fiction books on the TBR shelf, assuming I don't bounce off any of them. Also, 41 books, while not BRILLIANT, isn't bad for the year so far.)
I better go finish this e-book.