Sunday morning at breakfast looked like everybody at the con hotel had just gone, "…yeah, no, screw it," and not gotten up to eat. :)
*I'd* gotten up because I wanted to go to Walter Jon Williams' guest of honor interview, which I did (although I went into the wrong room first and was pretty torn about leaving what proved to be an astronaut's lecture, but did anyway). The first half of it was full of what I thought were really great general questions for a writer and I wanted to be answering them! The second half got more specific about his career, but as he said at the end of the hour, "Well, that got us up to 1985, so please come to the next convention for the other half…" :)
(jedward has sorry not sorry, get down low, i dont know why, and walking the wire on his playlist. dammit, norwegian air is supposed to have wifi on board and i'm dying to be tweeting this! also he's singing a lot to himself, just under his breath, which for some reason i find wonderful. people should sing more! also, just in case anyone wondered: he can sing.)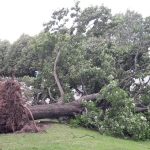 I bailed on the con after that because I really wanted to see a little of Helsinki without it trying to drown me. This would have been better if I had not somehow failed to put a meet-up with somebody into my calendar and forgotten about it, but she forgave me and I had a nice walk around some harbor-type thing where there were a number of trees shattered by the previous night's storm.
My impression of Helsinki was that it has wonderfully wide streets, excellent pedestrian areas, very good public transport, amazing bike lanes, a lot of very fit, Finnish-looking people, good tap water (they've got signs everywhere saying "you can drink water right from the sinks!"), and a sort of vaguely creepy Bladerunner-ish (to me) corporate ubiquitousness with innumerable signs proclaiming business affiliations everywhere vibe. It felt like being in a city labeled like Nascar jumpsuits. Someone I was with said it had a post-Soviet vibe to them, which may be more accurate, but it wasn't what came to my mind. :)
I went out to dinnner with friends and tried to find the Dead Dog party, gave up and sent one of our party ahead, then thought we HAD found it and went through a lot of contortions to contact said party member, only to find out later we'd screwed up and he'd almost been at the actual party and we'd called him back. We felt very badly. *moop* And I was a little disappointed to not get to the party because I'd wanted to say goodbye to Nicholas, at least, only as we sat around in the hotel lobby he happened to come through so I got to say bye anyway, yay. :)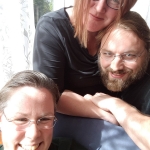 Shockingly, I completely failed to get to bed early, although I'd planned to. In the morning, Carol and I packed up, went downstairs to the lobby, happened to see eBear and Scott again, and then took ourselves off to the airport, where, to cap it all off, I sat next to half of Jedward, who smelled too much of cologne. And thus ends my Worldcon 2017 report!
(Except for the pictures post I'm going to do! And anything else I remember later! :))
(Like the moment on the way to the Hugos when I muttered (or so I thought), "That is an *extremely* attractive man," about the gentleman in front of me, who was someone else's husband. But apparently 3 days of convention was not good for my muttering skills, because he looked over his shoulder and smiled, which was both funny and mortifying. But my *god*, he really was extremely, *extremely* attractive.)