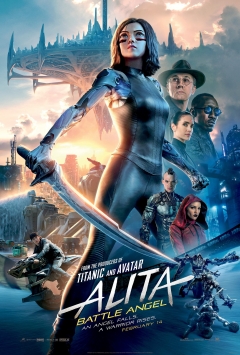 Picoreview: Alita: Battle Angel : This was much better than I expected it to be. OTOH, I expected it to be very, very, very, very bad indeed.
I thought the story might be okayish but that the CGI would be–I was not convinced by it in the trailers. It just looked creepy, the anime face. The proportions looked wrong. I thought they'd landed squarely in the uncanny valley and had been unable to do anything about it. So I was really surprised to find that the CGI is by and large very good. It's not…*real*. Or realistic. I don't know how many years out we are from realistic anime CGI like that, but this year wasn't it, and I'm not sure if they were really trying to achieve it or not. Either way, it's largely pretty good CGI.
The story, OTOH, is a hot mess.
Now, I don't know the source material (except for being aware it exists), so I can't say how well it matches the story presented on the screen. But what I want to talk about is the story structure, because from a writer POV there were things they were obviously *trying* to achieve, and it's very clear to me what went wrong and caused them to fail.
Spoilers after the cut. If you stop here, you can take away the knowledge that actually I'd go see another one, so despite the hot mess-ness of it, I overall enjoyed it pretty well. :)
(more…)