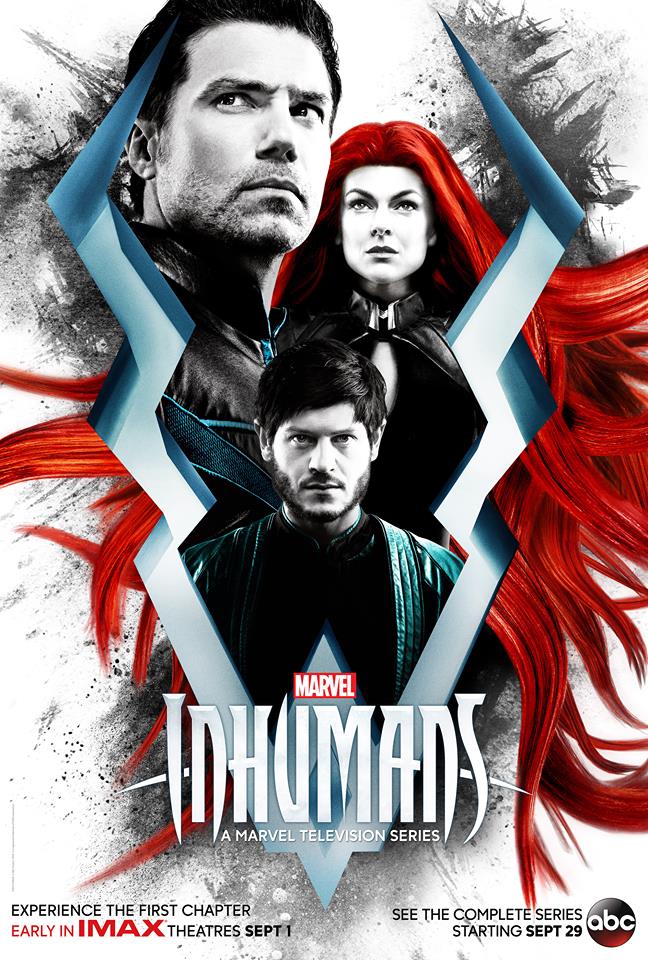 Picoreview: Inhumans: not *as* bad as the reviews said. To further illuminate that comment, I also went to see Rough Night this week, and of the two, Inhumans is not the one I wanted to walk out of.
That said, you should not in any way mistake it for *good*.
I went because I was sort of horrifiedly fascinated to see just how bad it was, after all the scathing reviews. The result may be that my expectations were SO LOW that I could not actually be disappointed. Also, there were only four people in the entire Imax theatre (I was the only woman), so I sat in the back row and livetweeted the whole thing, which may have added considerably to my enjoyment of the whole thing, because, I mean, it was awful, but I genuinely had a good time.
The inhuman special effects are unforgiveably bad. Medusa's hair is embarrassing and her costume is dreadful. Gorgon is wearing plush boots with hooves glued to the bottoms and they must have told him "just walk on your toes, it'll be fine." Lockjaw–okay, actually, Lockjaw's teleportation looks pretty cool, so presumably that's where they spent all the budget. Although it doesn't look like an expensive effect.
The writing is *appalling*, especially in the first twenty minutes. I mean, my *God*, it's bad. Iwan Rheon is not only saddled with truly awful lines throughout, but is also, I think, badly miscast as Maximus, which is saying something, because the writing is so terrible for everyone that it'd be pretty easy to feel that the entire show was badly miscast. But he really stood out. *None* of it is well-written, though. Somebody somewhere said "Inhumans should have been treated as a family drama like The Tudors, only with superpowers," and that really is what they should have done and instead they…have done this awful stilted thing with a painfully tropey creepy charmless bad guy and…I mean, honestly, I don't even know how they made it this bad.
Ken Leung, playing Karnak (whose name I never caught in the show, and whom I referred to as Tattooed Attitude), was trying really hard with really bad material. (So was Crystal's hair. Crystal, played by Isabelle Cornish herself seemed…pretty Crystal-like, really. Not good, but I thought she had potential.) Serinda Swan's Medusa was…*sigh* Yeah. Anson Mount managed to be utterly awful without having to say a word as Black Bolt, and then he got a little better and I thought perhaps he could pull it off with time and practice, and by the end he'd won me over and I was really enjoying him.
(As an aside, though, these people have *moronic* communications systems for a people with a silent king. I mean, Black Bolt ACTUALLY USES SIGN LANGUAGE in this film. Which is AWESOME, because silent king! Except…Medusa…is the only person…in the entire Inhumans family…who has bothered to learn it, and thus is the only person who actually knows for sure what Bolt is saying. WHAT KIND OF DUMBASSERY IS THAT?! And also they have a, you know, like, Star Trek communicators system, WHICH THE KING CAN'T USE. BECAUSE THEY'RE MORONS. I mean, for God's sake, if nothing else they've been watching Earth for ages, HASN'T SOMEBODY NOTICED HUMANS USE PHONES TO TEXT NOW? Do the Inhumans not have a writing system which THEIR KING could communicate with? OMFG!!!!)
Ahem. Back to the main post:
Gorgon is WONDERFUL. Despite the plush boots and bad writing, Eme Ikwuakor *radiates* charm and presence, and dominated the screen whenever he was on it. I loved him and I want him to have awesome SFX instead of humiliating ones.
There were three twists I didn't expect in the show, two of which improved their characters (one improved the affected character so dramatically that I completely reassessed the performer's ability) and one of which made me go OH YAY. And my final verdict?
I'll watch more. It's not good, but it's not as bad as I expected from the reviews. I think its most unforgiveable flaw is that it's not much *fun*, but honestly I do not think it's noticeably worse than the first 2/3rds of season one Agents of Shield, which I thought was really grimly bad but watched all of. It's not worse than Legends of Tomorrow, except Legends knew it was bonkers from the outset and just ran with it, which gave it a higher feet-kicking outrageous entertainment value. But ultimately, yeah, I'll give Inhumans a chance.