The following is the publication schedule for the current calendar year. Previous years' publications can be found at the Recent Publications page!
For series reading order, please see my author homepage & bibliography.
2020 Releases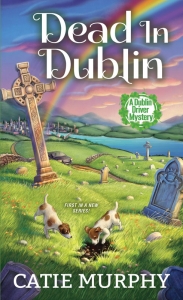 DEAD IN DUBLIN
Book One of The Dublin Driver Mysteries
American-in-Ireland Megan Malone has always enjoyed her job driving limousines…until one of her clients ends up DEAD IN DUBLIN.
A friend who fears she's culpable for the death begs Megan to look into it, and between her irate boss and a handsome Garda who's both amused and annoyed by her persistence, Megan has her hands full. But if cockles and mussels aren't to blame, can Megan find the real culprit . . .before another fishy death occurs?
Available Now!
Amazon || Barnes & Noble || GooglePlay || Kobo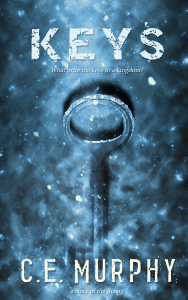 "Keys"
a fairy tale of The Rising
Not so very long ago came the Rising, and the death of the world as it was. There are old tales to be remade in this new future, and echoes of the past that resonate through time.
Rich men survive in every era, and the wealthy baron they call Bluebeard is no different. He offers wealth and comfort and education to the youngest sister of a large family…but what price the keys to a kingdom?
Available Now!
Amazon || Apple || Barnes & Noble || Kobo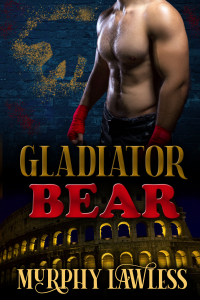 GLADIATOR BEAR
Gladiator Shifters: Book One
It's not easy finding love while tromping through jungles, but Anna accepts that as the price of dedicating her life to the conservation of rare animal species. The last place she expects to find romance is at a visit to the foundation that funds most of her work…but there, she discovers her idea of 'rare species' doesn't go nearly far enough.
Reclusive bear shapeshifter Garius spends his time and money ensuring conservationists like Anna are funded, and protecting shifters like himself whose gladiator ancestors once fought, and bonded with, the beasts of the Roman Colosseum. He avoids the modern-day cage fights that his heritage demands, and doesn't believe in fated mates…at least, not until he meets Anna.
When Garius's enemies strike, he is willing to walk away from the world he knew in order to keep Anna safe. But the magic that created shapeshifters has rules, and those rules must be honored…even if it means Garius's life is on the line….
Available Now!
Amazon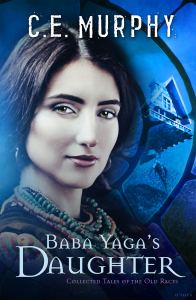 BABA YAGA'S DAUGHTER
Collected Tales of the Old Races
Ancient rivals, worst of friends, best of enemies: dragonlord Janx and master vampire Eliseo Daisani are the threads upon which a tapestry of lives and loves are woven across the centuries. From the coldest Russian nights to the heat of Chicago's greatest fire, nothing brings the immortal adversaries together–or tears them apart–like a woman.
And there is always a woman….
Preorder Now!
Amazon || Apple || Kobo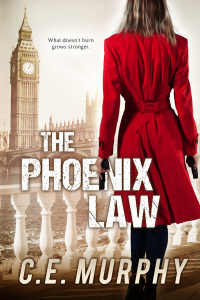 THE PHOENIX LAW
Book Three of the Strongbox Chronicles
Alisha MacAleer left the spy game to settle into a normal life, but when treacherous, brilliant Brandon Parker appears on her doorstep, Alisha is forced to draw on old skills and contacts to give him the help he needs. All too aware that if the only person she can trust is the ex-fiance who once shot her, the chances of making it out of an international game of cat-and-mouse alive grow increasingly slim with every step she takes. Still, she thinks she just might make it…until the one target she let get away reappears in a position of such power that it changes everything.
Caught between family, duty, and the right thing to do, Alisha realizes that the only way to change the world is to bring the whole system down around her…and hope that what doesn't burn, grows stronger…
Available Now!
Amazon || Apple || Barnes & Noble || Kobo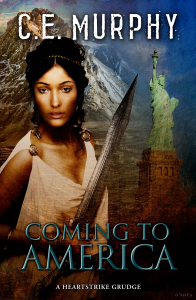 Coming to America
A Heartstrike Grudge
Naiki, born in the hills of ancient Greece, lost everything to the ancient, Timeless hunter who meant to take her heartstrike power before she ever Awakened to it. But the Fates had other plans, and an immortal old enough to scoff at those who would claim to be gods became her teacher.
The will to survive draws Naiki forward through the centuries, her clashes with the ancient hunter Enkidu becoming the stuff of legend. But as the modern era closes in around the Timeless warriors, in order to survive, Naiki might have to discover truths about her teacher that she didn't want to know…
Available Now!
Amazon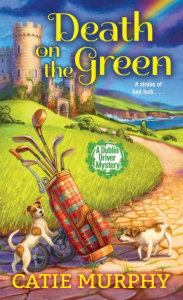 DEATH ON THE GREEN
Book Two of the Dublin Driver Mysteries
American-in-Ireland Megan Malone thought her mystery-solving adventures were behind her, until there's a DEATH ON THE GREEN…
Client & world-class champion golfer Martin Walsh has invited Megan to join him while he plays in a tournament at a prestigious Irish locale. Unfortunately, there's a surprise waiting for her on the course—a body floating in a water hazard.
Now, with a dashing Irish detective by her side, Megan must uncover the links to the truth before the killer takes a swing at someone else….
Preorder Now!
Amazon || Barnes & Noble
2019 Releases
THE FIREBIRD DECEPTION
Book Two of The Strongbox Chronicles
Agent Alisha MacAleer has put the past behind her as best she can, but when a mission goes sideways, she is left with an impossible choice. She can follow orders, or she can strike out on her own to discover the hidden mastermind behind the game she's been drawn into—a mastermind whose identity she suspects, but could never guess.
With no support, no resources, and no safety net, Alisha must believe that honor can survive a trial by fire….
Available now!
Amazon || Barnes & Noble || Apple || Kobo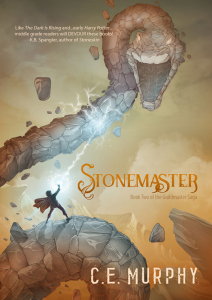 STONEMASTER
Book Two of the Guildmaster Saga
It's good luck to earn the king's regard…isn't it?
Seamaster journeyman Rasim's quick wits have helped to save his beloved home city and earned him the dubious honor of studying with the diplomatic Sunmasters. But not everyone is happy that magical knowledge is being shared, and when the king orders the guilds back to the Northlands on a sensitive political mission, it may well cost Rasim his life.Seamaster-born, Sunmaster-trained, Rasim now faces a fight that can only be won by a Stonemaster…
Available now!
Amazon || Barnes & Noble || Apple || Kobo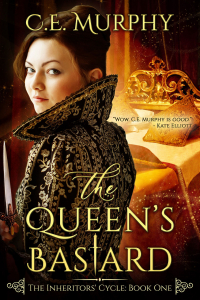 THE QUEEN'S BASTARD
Book One of The Inheritors' Cycle
Belinda Primrose is the unacknowledged daughter the unwed queen of Aulun. She is a spy, an assassin…and a danger to her mother, should she ever be discovered. As she infiltrates the glamorous royal palaces where her mother's rivals scheme, a new power awakens in Belinda. The witchlight she commands could bring down everything she's worked for when she finds a teacher in Javier, whose claim to the Aulunian throne ranks him highly among Belinda's enemies.
Belinda has never wavered in her mission, but love and loyalty will collide as her secrets are revealed…
Available Now!
Amazon || Apple || Barnes & Noble (Nook) || Kobo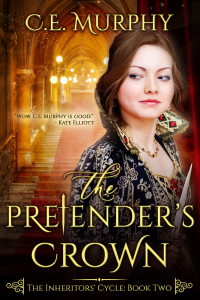 THE PRETENDER'S CROWN
Book Two of The Inheritors' Cycle
Belinda Primrose has lied, murdered, and seduced her way through the deadly courts of Echon, and now she has come into the strength of her witchpower, a magic she shares with Prince Javier, pretender to her mother's throne. Their craft has been used to manipulate, shape, and evolve the future of Echon…but even a power from beyond the stars cannot break the will of a daughter betrayed by everything she has ever known.
After a lifetime of service, Belinda will finally shape a future of her own…and change the destiny of a world with her choices.
Available Now!
Amazon || Apple || Barnes & Noble (Nook) || Kobo
"Siryn"
a fairy tale of The Rising
Cities have drowned and the future has changed beyond recognition. But something new has been born–or perhaps something impossibly old has been released.
She does not know how she came to be, only that the oceans are her favored home…until a man from the world above nearly dies in her domain, and she is drawn toward the soft and easy life he seems to possess. But there is a price to pay for love, and in the end…
…you will never be part of her world…
Available Now!
Amazon || Apple || Barnes & Noble (Nook) || Kobo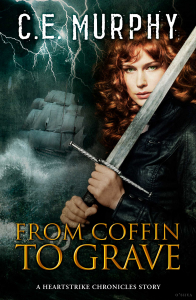 "From Coffin to Grave"
a Heartstrike Short
Saoirse O'Cathain should have died on the coffin ship that took her from famine-torn Ireland to the dubious safety of the Canadian coast, but an ancient immortal–a man who claims he doesn't care–saved her by Awakening the Timeless immortality she harbored within. Perhaps it was a gift: Saoirse might have all of eternity to watch the world change, now…
…unless she has been Awakened only to travel from coffin to grave…
Available Now!
Amazon || Apple || Barnes & Noble (Nook) || Kobo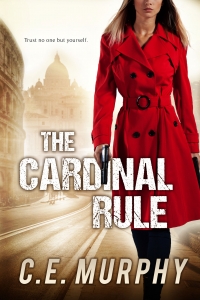 THE CARDINAL RULE
Book One of The Strongbox Chronicles
When CIA Agent Alisha MacAleer's cover is blown by ex-lover Frank Reichart, she's forced into a spy game that draws a curtain back on a world she never even suspected existed. No matter which way Alisha turns, she faces new dangers and heartbreaking betrayals. In the end, she has no choice but to adhere to the cardinal rule…
Trust no one but yourself.
Now Available
Amazon || Barnes & Noble || Apple || Kobo
Previous years' publications can be found at the Recent Publications page!
For regular updates to this schedule, please sign up for the C.E. Murphy Newsletter: