It was a great day when I realized I could make egg salad any time I wanted, but Easter is still a favourite holiday because it's the Egg Salad Holiday. :)
We had Easter yesterday, because I'll be at EasterCon in London on Easter Actual. Young Indiana got up at 5:30 (well, 6:30 with the clock change, but still) because he was So Excited, but he was thrilled to pieces to find the eggs that it was hard to hold it against him. His Easter basket had (among other things) a chocolate bunny and two smaller (but larger than everything but the bunny) chocolate eggs with little chick faces on them.
"Look!" he gasped in delight, "the Easter Bunny brought us ALL something!" And he gave Ted and me the chick-eggs, which I thought was *incredibly* sweet of him. :)
Ted made the classic Easter dinner of red beans & rice and I made a lemon meringue pie, only the second I've ever made. It turned out prettily. :)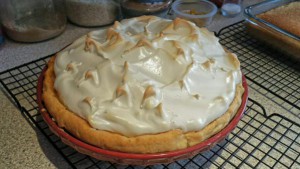 Today is the start of the Easter Holiday, which goes on for two weeks. Two. Weeks. I shall be quite mad by the end of two weeks, I expect. Quite mad indeed. Fortunately, Ted was kind enough to let me go off to EasterCon on my own for this coming weekend, which is probably all that will save my sanity. :)
I'm on two panels there! The Ultimate Urban Fantasy panel at 6:45 on Friday (with, among other notables, Jim Butcher, whom I have not seen in many years!), and something titled something to the effect of You Got History In My Fantasy, or perhaps the other way around, which is being moderated by my dear friend Kari Sperring, so I'm really looking forward to both of those.
Odds are that Twitter will be the best way to get hold of me during the weekend (assuming the venue's wifi is up to the job), so I'm @ce_murphy there, if you didn't know. :)