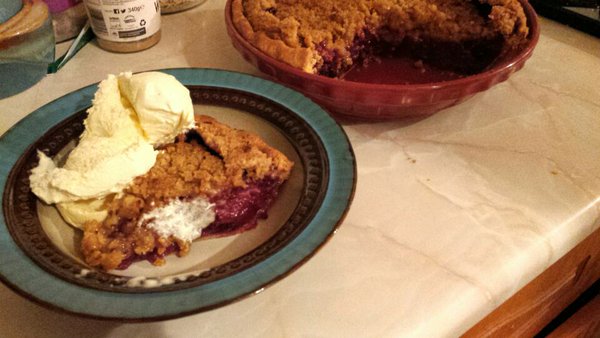 Nephew: Excuse me? I have an important question. How powerful is Captain Britain? Could he beat Superman?
Me, having already described the "the one who serves the story best" aspect of this kind of question and delighted to be asked: I *believe* CB's power is drawn from the spirit of the British people, so potentially yes but probably only under certain circumstances.
Nephew: Right, great, okay. How about Captain Britain against Juggernaut?
Me: They'd go toe to toe.
Nephew departs, totally happy ♥ :)
I made Blackberry Pi on Monday, in celebration of Pi Day. It set up *perfectly* and is a wonderful blend of tart and smooth. SO NUMMY!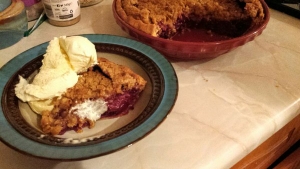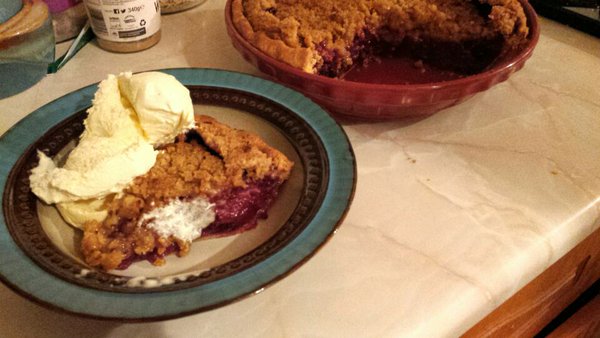 This morning I made Lazy Baker's Cinnamon Rolls, which is to say, I used storebought puff pastry for the dough. I thought they were rather wonderful, although the other people in the house thought the regular ones with homemade dough are better. Ted, however, conceded that this was a lot *easier*. :)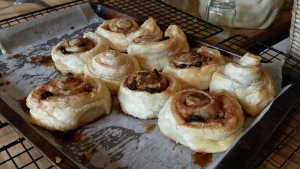 Last summer I said, for some reason, that I had quite a lot of grey hair at my temples. Dad, to whom I was speaking, said, "Nah, that's just the sunlight hitting it," then leaned forward for a better look and was like, "…oh, no, wow, you're right, you really do…"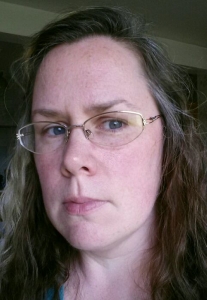 It's possible I should stop bleaching my hair for the movie-style Rogue stripe and go with Classic Rogue, streaked at the temples, since that's what my hair is doing anyway. Although it *does* have a movie-style streak of white. It's just that it's in the middle of my head–you can see it in the part, in this picture–rather than at the front. You had ONE JOB, hair…!
"Mmmm," Indy said, breathing in the scent of the new book, "it smells like fresh ink!"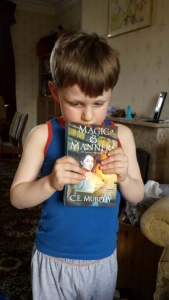 And last, because the above was clearly not enough pictures, I've done another couple pages in the Elfquest coloring book, and the second page of the graphic novel 'coloring book'. The latter is actually really satisfying because I can do a panel and feel like I've Accomplished Something, but the color on all of these is particularly bad because I just took photos instead of trying to scan them in. The originals are prettier. :)
This was a lot of purple. It really doesn't look like it, it looks more heavily green here, but it's a *lot* of purple.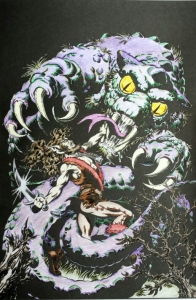 I did this all in one day, of which I am disproportionately proud. Apparently I really am five. And the colors are so much nicer for real than in the photo, but oh well. Also, does anybody else worry about Savah and her skinny neck holding that giant gold plate on her head all the time, or is that just me…?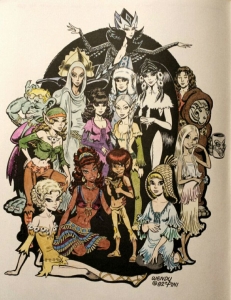 I'm going to try to get to a convention with the Pinis sometime and get them to sign this thing. Even if I only have twelve pages done. :)