The movers called at 10 and said they were running about half an hour late. They arrived and began work at half ten, worked with admirable and somewhat depressing speed (it took them SO LITTLE time to pack up a giant room full of book boxes that had taken me weeks to fill), threw the last things we hadn't quite managed to get into boxes, into boxes, got everything including the trees and the barbeque into the truck, and hied themselves off to Drogheda where they got lost trying to find the house.
Even so, I wasn't able to get in and take pictures of the empty rooms before they got there, so I'll have to wait until things are unpacked to start taking pictures for showing-off purposes. :)
Well, mostly:
There was no way for the poor movers to pull the truck up to the house, so they had to bring all the boxes down the 40″ walkway and into the house, which, as they said, added an hour, easy, to the total time it took them. Still, they were done in 6 hours flat.
The landlady, who has only just moved out, left us a generous home-cooked meal of salmon and potatoes and carrots and broccoli in the freezer, and a rhubarb pie and ice cream to go with it. Was that not just the most incredibly kind thing?!
We walked into town, not entirely intentionally, for dinner, and found a rather decent Italian place (which was nice, because I'd been really wanting to go out for a decent Italian meal!), and the waitress, who had boys of 5 and 7, brought Young Indiana out to the restaurant's back terrace to show him the 4-day-old baby pigeons who'd been born there.
So those are nice ways to start off in a new town. :)
Thus far I think we've unpacked two boxes and I have ascertained that none of our bookcases are suitable for the living room space available to them. That's okay (?) because we needed more anyway…
This picture was taken from approximately the middle of the back garden; there's as much space behind me as there was in front. (Also it's not crooked, that was just the photographer's exhausted tilt…)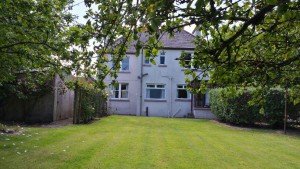 "We could hold a party for a hundred in this place," Ted said, "Not that I want to." Pause. "Well…"