I am lying. Today is not launch day. Today is the day I remember to post about launch day. :]
But: launch day! New novella! PRACTICAL BOOTS, a story of the Torn, is now available!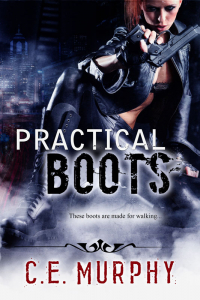 These boots are made for walking…
The disappointing daughter of a Lord of the Torn, Cat Sharp was dumped in the shapeless Waste to prove herself or die. Seven years later, she's honed the Artificer magic that saved her in the Waste, and her courier business is booming: after all, no one else can step from one location to another almost instantaneously, as Cat can with her seven league boots.
Each passage through the Waste takes her one step closer to the only thing she's ever wanted to find…but even the Torn-born become careless at times. When Cat's father catches up with her again, Cat must make a choice between her own dreams and an innocent's future…or try once more to forge her own way through two worlds, neither of which she quite belongs in….
AVAILABLE NOW: Amazon (affiliate link) || Apple || Barnes & Noble || Kobo