The trouble with the first several days of Worldcon was that I was having so much fun I kept lying awake at night grinning like an idiot and keeping myself awake with happiness, which meant that although I technically went to bed about 3:15 on Saturday morning, it was tragically closer to 4 before sleep actually arrived.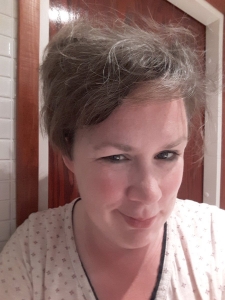 And I had a 10am panel.
Frankly, my friends, I did not expect it to go well. None of us did, in fact. We were all privately agreeing that this was probably going to be a disaster, because we were just wrecked and nobody could think clearly and our voices were shot and yeah.
Surprisingly, it went REALLY WELL. Or at least we panelists thought so. :) We were talking about women writing comics and it turned out we had reasonably intelligent things to say, and we focused on our experiences with writing comics but broadened it into women artists as well, and it did seem to go well. We were very pleased. :)
Post-panel I had lunch with my friend Mika, and that was really nice. Then I caught up with Ursula and Kevin, and did an interview for Kevin's organizational podcast, which was fun. I'll link to it when it's available. And it just occurs to me I didn't actually get any pictures WITH them, which is a thing I keep failing to do. Well, next time. :)
SPEAKING OF NEXT TIME
Dublin has won the bid to host the 2019 Worldcon! I will of course be billing it as the "Come hang out with Catie!" con for the next two years, but to my delight, Diane Duane will be the guest of honor (I had a bet going with myself that she would be, and am smug to have won!) and Ian McDonald will be joining us, and it's going to be a hell of a good party, so COME ON OVER!
I have real hopes that the core war room writers will all be able to make it, and if enough of us do, we'll probably see about doing a panel about supporting other writers or something, which would be really neat. I'm so excited! I mean, odds were PRETTY GOOD that we were going to win (we were the only ones bidding), but I'm still unexpectedly chuffed for it to be official and to be able to say it's time to start making real plans for getting here for it! YAY!
Anyway, during the afternoon I ran into my con-friend Margaret again, and she invited me to a little get-together off-site, which I decided would be nice to drop in to, as I wanted to get away from the con for a little while anyway. So I toddled into Helsinki and dropped by for just a little while, then went out to explore and look for dinner.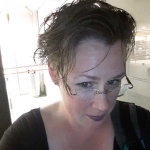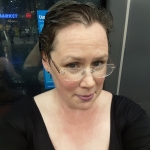 >
Instead I found a thunderstorm. I stopped to take a picture of it rolling in and posted on Twitter to say "thunderhead coming in over Helsinki, aka 'soon i will be very wet'" and less than a minute later it hit. And when I say hit I mean hit. A huge wind came out of nowhere and snatched up all the grit from the roads and sidewalks and pelted into the air (and my clothes, and skin, and hair…) and some raindrops smashed down and within 90 seconds I was thoroughly damp.
And then the rain *really* started. Huge, smashing, dramatic raindrops that filled the streets in literally seconds and lightning was crashing everywhere and thunder was rolling and I still had to GET TO THE TRAM to get back to the hotel, so I went from 'thoroughly damp' to 'soaked completely through' and it was frankly exhilarating. If the amount of lightning hadn't seemed so dangerous I might well have stayed out in it longer, but I dripped my way back to the hotel and took a shower and changed clothes completely, because literally soaked through.
By then I was brainless with hunger and it was still thundering and lighteninging, so I just ate at the hotel restaurant, but one of my friends happened upon me and joined me and we had a lovely couple hours of chatting before deciding to try to brave the celebratory Dublin 2019 partly. Although I went in with the intention of saying "Hello! Good night!" to everyone, and actually kept it. The funniest bit of that was crouching at at a table full of friends and Ian McDonald (who may have the drink taken) leaning over and roaring, "COME TO IRELAND!" at me cheerfully.
"She's IN Ireland!" said everyone at the table.
Ian, still leaning, took this information under long and careful consideration. Long. And careful. Consideration. And then leaned slightly farther in at me and roared, "COME TO IRELAND!" again, which made us all laugh and I promised I would. (The next day I saw him and he gave me a slightly sheepish nod–I'm pretty sure he hadn't remembered me, which is fine as it'd been quite some time since we'd last spoken, and I've cut my hair since then–and I thought it was all pretty funny. :))
(i'm sorry i'm typing this on the plane and a very cologne-laden young man is in the seat beside me and he took a nap and i looked over at him and i'm about 90% sure he's half of jedward, altho his phone pictures, which he's scrolling thru, only seem to have one blonde boy in them, but then i guess they would seem that way unless they were together in a photo and i just have to say that.)
SO ANYWAY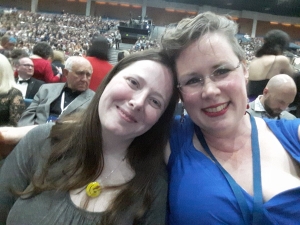 I actually did take myself off to the room after that, but then in the great tradition of sleepovers everywhere Carol and I stayed up much too late talking (it's the only night we did, and I'm really awfully glad we did, because great tradition of sleepovers everywhere!). We had a long and very funny discussion about Irish accents that featured Colin Farrell's absolutely false Irish accent he uses while in America and which eventually landed on something that clarified a Thing About Irish English to me!
So Irish people are forEEEEVER saying they'll be there in two minutes. Two. Always two. And they're never ever ever there in two minutes. Ever. So! It turns out there's an Irish word, cúpla, that means "a few", and that because it sounds like "couple" there's a kind of slide from Irish to English on that word which means that if you ask an Irish person if they want a couple cookies and they say yes, they then think you're really kind of stingy if they only get TWO cookies.
But! I am now convinced that when Irish people say they'll be there in two minutes, they're moving *back* on that transliterative (is that the right word? it'll do) slide, and what they really mean is cúpla, and that they'll be there in a few minutes.
THIS MAKES SO MUCH SENSE!
(oh shit yeah no there's pictures of both of them, it is half of jedward!!!)
Anyway, we went to bed after that except then I was still giddy and I was remembering that Kari and Camille and I had discussed cosplaying Josie & the Pussycats for Dublin 2019 and I had to post on Twitter to ask if other people kept themselves awake at night thinking that obviously it would be totally reasonable to actually learn to play the guitar and do a tribute concert at the con and then because it was clearly terribly important RIGHT THEN, trying to remember the words to Ballroom Blitz…
…or if it was just me that thought that way. :)
(Kari said it wasn't just me but I did understand that I was Josie, right? And I was like yes, I did, although I wasn't sure I was vocally up for that because Camille's amazing and Kari's Welsh, so, y'know, obvs. :))
And then I went to sleep. :)