A few weeks ago my friend Leah said her husband wasn't much interested in seeing Wonder Woman, so she wasn't likely to see it in the theatre, and Ted said "THIS WILL NOT DO" and checked to see how much plane tickets to Liverpool were and they were practically nothing so he sent me to Liverpool for a lark with Leah, and we went to Wonder Woman together!
Knowing I had to get up wery wery early for my flight, I took a shower the night before and ended up with…Quite The Hair in the morning.

But I tamed it, and got myself some hot chocolate at the airport. I was very tired. But less large of hair. :)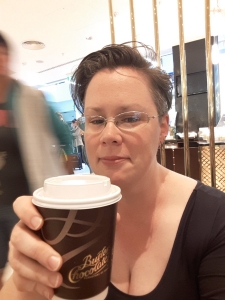 It was the shortest flight I'd ever been on that didn't involve being in an actual puddle-jumper (ie, 6-12 seat twin propeller airplane). We went up, we went down, there I was. I hung out at the airport for a while, reading, until Leah could collect me, and we spent an EXTREMELY giddy couple of hours ranting about work, children, and the patriarchy. (And, to be fair, a bit about Tom Hardy. Not so much ranting there, mind you, but. :))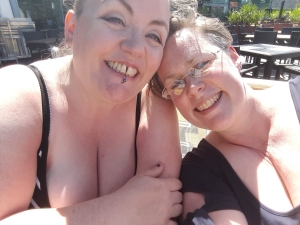 These drinks are not actually alcoholic, because it was 11am, but they were DELICIOUS!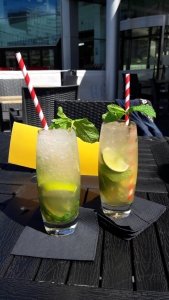 We went to our movie. We sat through a truly inordinate number of ads, which, thankfully, had no sound. We started to become concerned, in fact, after many many soundless ads. Then the trailers started, also soundlessly. They were doing these weird little 10 seconds spots for Dunkirk, and the second-to-last one faded to black and immediately came up with the trailer for War for the Planet of the Apes, except because there was no sound and the fade to black had been so brief, they really looked like one trailer.
"Is this how we won WW2?" Leah asked, mystified. "Woody Harrelson and an army of monkeys?"
Then a theatre employee came in and said the entire sound system in the theatre had blown and they would not be showing us Wonder Woman in that theatre at that time.




However, there was another showing half an hour later, and they let us go to that one!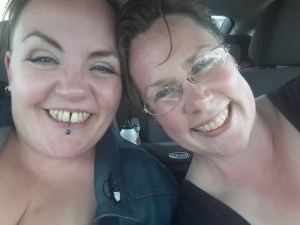 We had an utterly splendid time. Leah really enjoyed the movie. It ended and she said, "That was…that was *good*," in astonishment, and then we went back to the airport, picking apart all our problems with it and rewriting things to our satisfaction, but we were really happy and had such a good time! And decided that we should really do that more often, because it turns out to be really cheap to pop over for a day, and ours is one of those friendships based on kindred spirithoodness rather than regular meetings in real life (we think that was our 6th time actually being on one another's physical presence), but it was such fun that it seems like it should be a thing we do, and I need to look into doing that with OTHER friends in England and equally nearby locales…!
But yeah. That was really great. Yay for a lark!