For Reasons, once a week I am stuck in an Aldi for approximately 90 minutes. Aldi, for those who are not familiar with it, is a German grocery chain that also carry Stuff. The Stuff changes twice a week, and covers a wide range of Possible Things You Never Knew You Needed, or sometimes, Things You Really Needed And Can Get Here At A Decent Quality And Fairly Affordable Price.
Normally I'm fairly brave about this situation and do not come home with Stuff, but I had a small Aldi (smAldi?) accident this week.
See, there was only one ultrasound jewelry cleaner left, and I've been thinking about getting one for ages, and, well, if I didn't get it then clearly I wasn't going to be able to, right? Right. So I had to.
In case you were wondering, my earrings are (after three rounds in the cleaner, and some scrubbing with a toothbrush) *very* sparkly. (They had not been cleaned in a very long time. We will not discuss it further.)
The Cute Yarn: there was only one package of this and someone had opened it and it in fact only had 4 of the skeins in it, possibly not even all 4 colors, but I found the others randomly distributed through the rest of the two bins the other (non "bright" yarn) packages were in, and I thought it would make a brilliant color-block scarf to go with the AMAZING wool coat that I, uh, do not fit in.
(In my defense, I ordered the coat from the States & was genuinely trying to buy it to fit me as I am, not as I would like to be, but I forgot sizes in the States run smaller, so…it's too small. But not so much too small that I couldn't fit into it if I did get to where I would like to be, so I kept it as #Goals. Plus sending it back would have cost a lot.)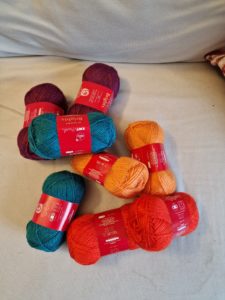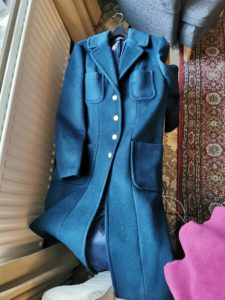 There was also less cute but very handsome denim yarn that I didn't take a picture of, but there was ALSO *DIFFERENT* cute yarn for making into silly hats, and…I was weak.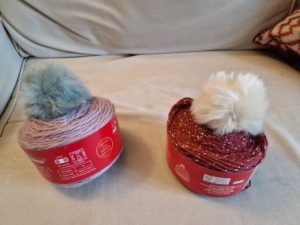 I don't even knit that much, guys. *grimaces* And, like,yeah, I get that collecting yarn and knitting are two different hobbies, and in my defense I have a pretty small yarn stash (even if you include what I inherited from my mom, it's not that big), but…it was really cute and suggested Specific Projects which seemed within my skill set.
Not the denim yarn, though. It had a Sekrit Hidden Patten which turned out to be for a shawl that's way out of my pay grade. But who knows, maybe I'll either learn, or decide on something else to do with it. :)