Young Indiana inspects our potatoes, which are growing like gangbusters.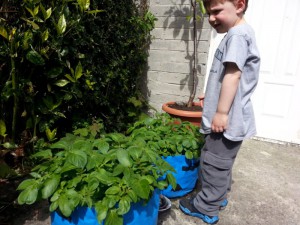 I thought the idea of putting them near holes in the container was that the tops would grow that way, but apparently the whole thing is shallow enough that both layers of potatoes are just reaching for the top. Gangbusters!
Several of our strawberry plants didn't take and I haven't gone to get more, but two are looking healthy, and our lettuce is growing nicely! In fact, all of that has now been clipped back and will shortly be part of our dinner!
We've just sowed carrots (for the value of 'sowed' that involves a 4 year old's assistance, so basically: handsful of seeds tossed into the container to see what happens), I've got cucumbers to plant for pickling, and we have a few pea runners going, but the slugs are getting to them and I need to … well, what I really still want to do is get hanging containers for strawberries, peas and tomatoes, but really to do that I also need someone with more enthusiasm for drilling holes in concrete than any of us have. :)
I wanted to make peanut butter pie while my in-laws were here, and after some exasperation, failed to find a recipe that did what I wanted. I mixed and mashed some and added a bit of my own and came up with this, upon which I forgot to drizzle chocolate, not that it by any stretch of the imagination needed it. :)