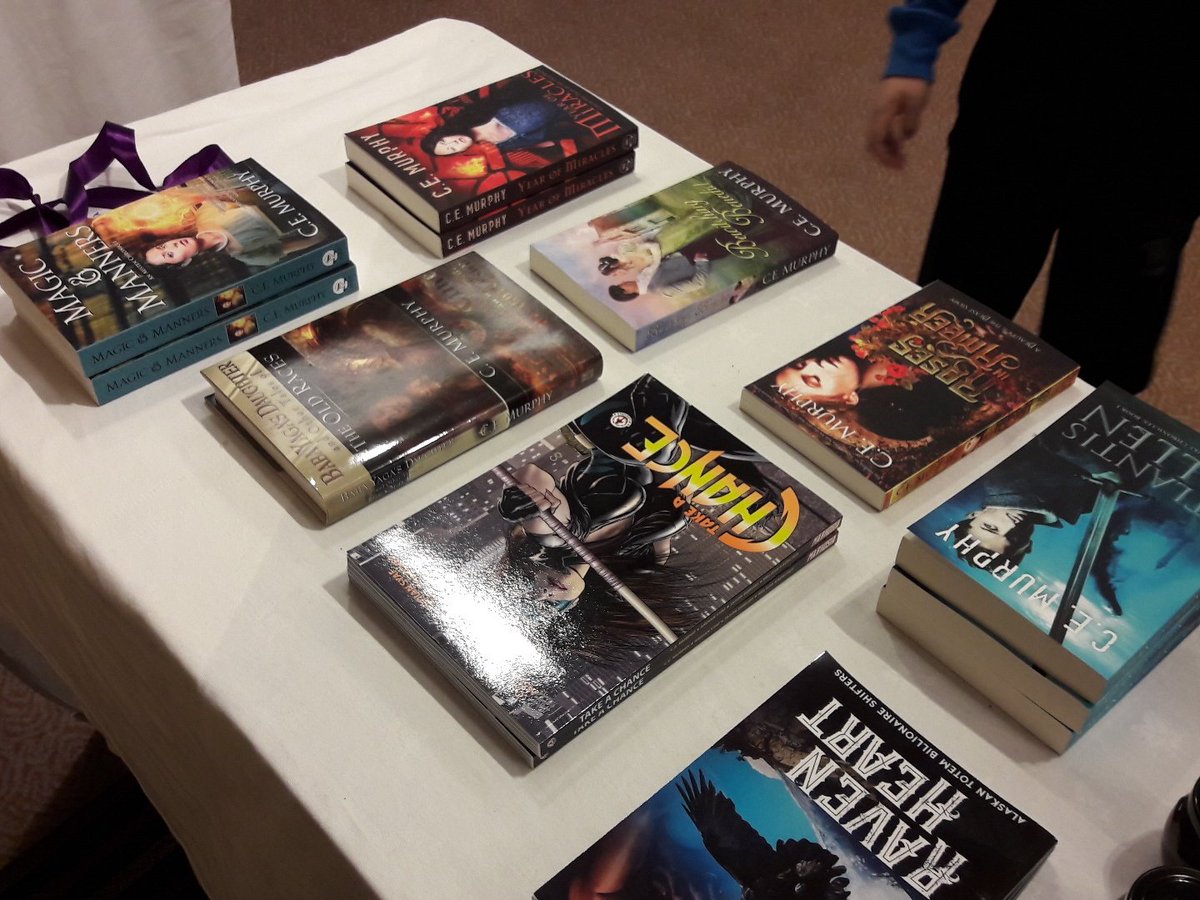 Octocon was this past weekend, and a fine Octocon it was!
I decided to do a dealer's table at the last minute, and it went…well. I brought jam and books. About…70 jars of jam, and 30-40 books. In fact, I had to restock for the second day, because what I'd brought on day one had sold out to the tune of about 80%, which was sort of Beyond My Expectations. I don't seem to have gotten a picture of the books on day one, but (first photo courtesy of, by which i mean 'nabbed from the twitter feed of' Octocon :)):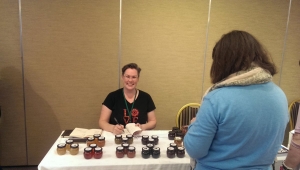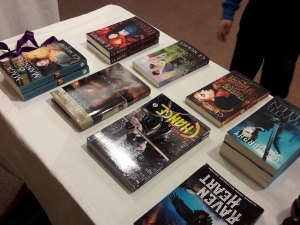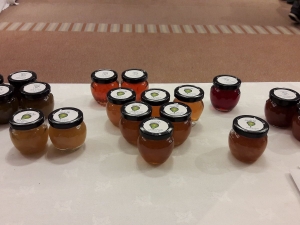 This is what was left at the end: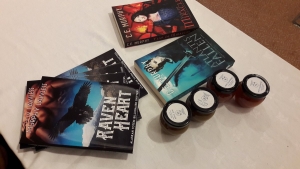 This morning my Twitter timeline was full of people full of jam (pics courtesy of Shelly!):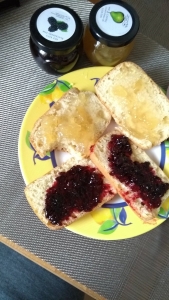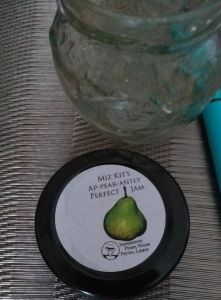 So…yes. That went well! Next year I need to bring sampling jars (and a toaster, someone said *laughs*), but it certainly went well enough to do it again. (One of the other vendors said he'd had a friend in the dealer's room last year, and the friend had said to him, "There was a woman beside me selling JAM," which he obviously thought was baffling, and the vendor relating this story said he'd said, "*Jam*? You're pulling me leg," but the guy had sworn that no, there was someone selling JAM, and look: here I was again!
Then he bought five jars. :))
I also handed out fudge: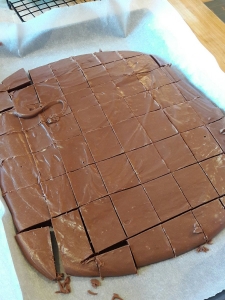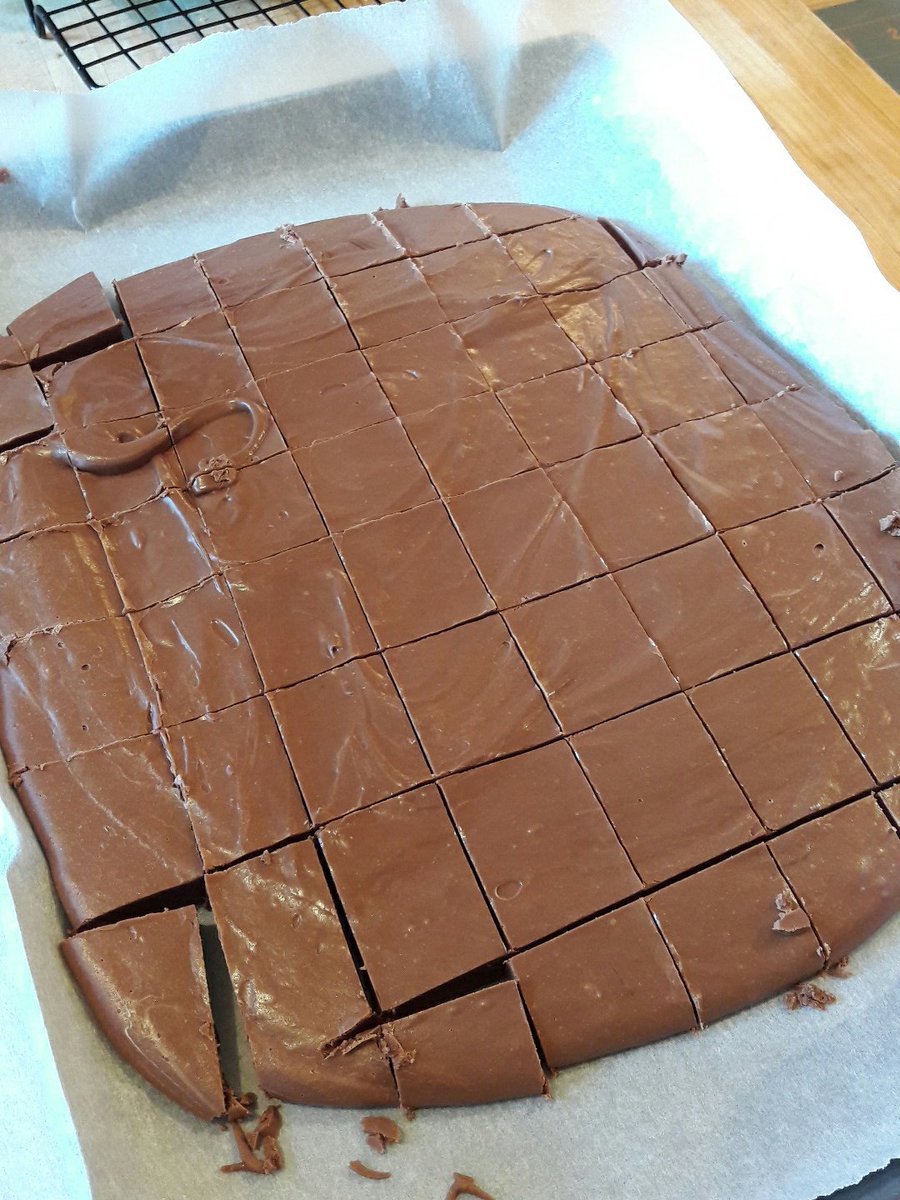 and I tell you what, it was a spectacularly good batch and the only reason I shared is because I am a MAGNIFICENTLY NICE PERSON. A number of people asked if I was selling fudge. I wasn't, just handing it out, but IDK, guys, what do you think, a cottage industry? Miz Kit's (or Mrs Murphy's, for Added Irishness) Jams & Fudges?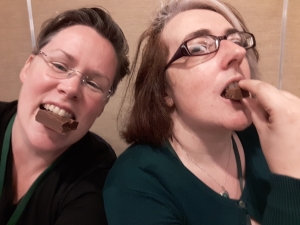 OMG my friend Kate (pictured above) was ROCKING her Rogue look this weekend, O.M.G!!!!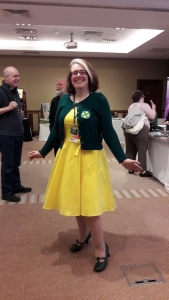 I was just ADMIRING HER ALL WEEKEND, OMG!! ♥!
There was also a perfectly stunning Agent Carter in a perfectly stunning blue dress the EXACT SAME COLOR as mine, like, to the point that I caught a glimpse of the *color* from the corner of my eye and thought: That woman is an Agent Carter! And she was! So we bonded. :) And then she saw my name badge and was like "! You're CE Murphy! I loved your gargoyle books!" So we bonded more. *laughs* It was really lovely to meet her and I'm feeling inspired to do cosplay because of her. ♥
I did a few panels (fewer than I was supposed to, because there were a couple late night ones I was meant to do on Saturday but I decided to check the train times at the last minute and it turned out if I did the late panels I wouldn't be getting home until 1am and nooooo. I was much too tired for that.). They were all a lot of fun, and to my UTTER DELIGHT, the reading Saturday morning netted at least 3 sales of BEWITCHING BENEDICT. I wasn't at *all* sure how a comedic Regency romance would go over at a SF convention, but I gave it a shot anyway. I read the lemonade scene and got a lot of laughs, and then people came to buy the book! I was so happy! Several people who bought it said "I don't usually read romance, but the reading was so funny/I like your writing/I'll give it a shot," which just fills me with joy. ♥!
An advantage of being at the dealer's table was people came to me, which was wonderful! And I got to chat with a lady I'd just met on Twitter who is a CE Murphy reader and who runs a collectibles business (Uncanny Collectibles), so that was wonderful, and it was just a really nice weekend. And I'm super tired and have to get to work now. :)