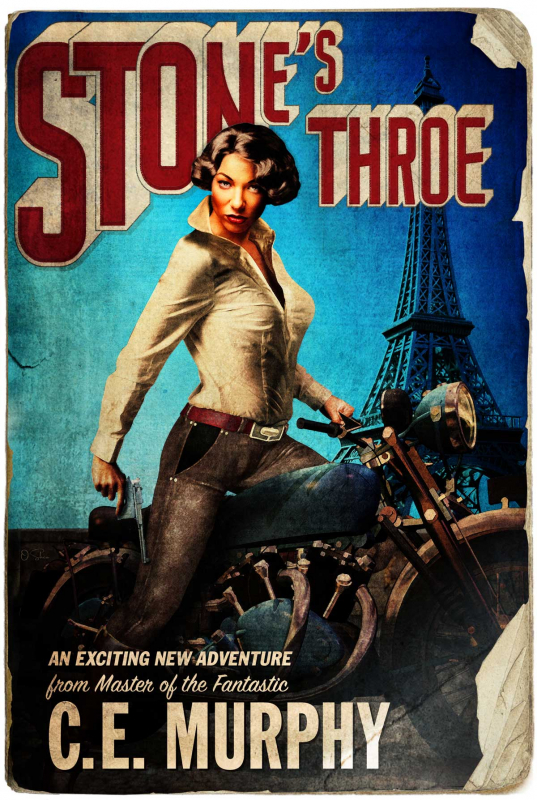 Release Day: STONE'S THROE
If you're just here for the links, here you go: amazon (affiliate link) || barnes & noble || apple || kobo
If you're here for incoherent squealing on the part of the author, JUST LOOK AT THIS COVER ZOOOMMMMGGGGG!!@!!@!@!E
I wrote this book several years ago, but felt it kind of slid under the radar because it was a commissioned tie-in work (you don't need to know anything about the world it came from for it to work, though!), and one of the things I've wanted to do for ages was re-cover it and re-release it. And now I get to, and I'm SO THRILLED with the cover art!!! it's SO PULPY! it's SO COOL! It's SO AMAZING AND WONDERFUL!!! I put my cover artist through the wringer on this one, but she really came through and I'm SO HAPPY!!!!!
Le Monstre aux Yeux Verts, the Green-Eyed Monster, holds Paris under his thumb, but young Amelia Stone vows to free her parents from his influence at any cost. Born to carry the spirit of justice through a new century, she risks everything—even the love of her family's mysterious Benefactor—to right the wrongs the Green-Eyed Monster has wrought…and in one crumbling moment, she both succeeds, and loses everything…

But when rumor of all-too-familiar danger returns, Amelia fears her long-ago successes were failures after all. A new phantom haunts Josephine Baker, star of the Parisian opera house, and Amelia is determined that Josephine won't suffer the same losses her own family did many years ago. In order to keep the singer safe, Amelia must face her own regrets, reckon with her oldest enemy…and once more find herself in love's throes.

Because Hell may have no fury like devotion denied…but by Amelia's hand, justice will be done.
I came late to pulp fiction, having started to read the John Carter of Mars books shortly before the Disney film came out. There's a magnificent moment in A PRINCESS OF MARS where John, having learned the Martians are telepathic, has a line to the effect of, "Over the next several days, I, too, developed my telepathic powers," and, like…then he's just telepathic after that, I guess! Because why not!
I loved it so much. The total lack of worldbuilding. You just can't do that in today's fiction. Just, like, "Welp! Here we are! Let's go, then!"
So I just really, REALLY wanted to write a pulp novel, and also knew I'd never actually really get around to it, BUT THEN the opportunity TO write one was offered me, and…next thing I knew, I had Amelia Stone, Spirit of Justice, a bisexual badass Black woman in 1930s Paris, falling in love, fighting monsters, and defeating Nazis.
Honestly, in today's world, who could want more?
I don't have print editions of the new version of the book yet, but will shortly. In the meantime, here are the links for the ebooks, again! <3 :) linky link links: amazon (affiliate link) || barnes & noble || apple || kobo