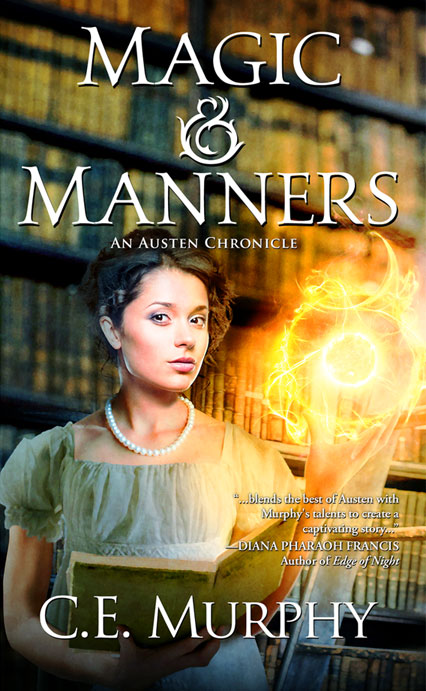 The Magic & Manners Project: Publication Process
Part two of my series on all-out self publishing, a project I've taken on with MAGIC & MANNERS, a Jane Austen pastiche in which I wondered what would happen if the Bennet sisters had too much magic rather than too little cash. Part One, which focuses on finding and working with a production team as well as developing a work flow (including a Helpful Check List) is here.
This week I'm going to look at the actual publication process. I've been working through Amazon and Ingram, who are both doing what's called Print On Demand (POD), which means the book is printed when you order a copy, rather than having copies sitting around a warehouse waiting for someone to order them.
I assume you know about Amazon. :) They have a couple of self-publishing arms, one for print books (CreateSpace) and one for ebooks (KDP). Bookstores, very reasonably, don't want to buy print books from Amazon, and Amazon has a captive audience for its ebooks, as they're the largest distributor of them and have the lion's share of the market with their Kindle e-readers. I am, largely, not going to talk about Amazon, because it's such a closed ecosystem the whole process is somewhat different.
Ingram is one of the two largest book distributors in the world; they are, in other words, the people from whom the bookstores buy their books. They have a self-publishing arm, IngramSpark, and it used to be that in their listings (where bookstores order from) they listed the self-published books separately, in an area where they wouldn't come up for a bookstore unless the store went in there specifically looking for it…which bookstores had no reason to do. A while ago, though, I read that Ingram had changed that policy and that Spark books were now available broadly throughout their system, and I've been very interested in pursuing a self-published book with them since, because the theory here was that a self-published CE Murphy book could now turn up in (say, the Barnes & Noble) system and cause them to say "oh sure we'll order that."
It's not actually that easy, because without a reason to look for a new CE Murphy book there's no reason they would, but in theory, it *allows* them to, at least. I'll get to promotion in a later post, because it's going to be too big to bite off here, but in short, right now that's why it's really fantastic for readers to go into their local bookstores and ask if they can have a copy ordered in, and suggest short-ordering (which means just ordering a couple of them) some for the shelves.
E-BOOK EDITIONS
I'll look at e-books first, because it's short and quick.
I have, in the name of ease, gone through Ingram for all e-book releases except Amazon. This means a lower royalty rate (40% instead of 70%), but it's a one stop shop for me and I have enough to do right now that I'd rather take the easy road. I may, out of grim curiosity, do the next release (ATLANTIS FALLEN, coming in April 2016!) on Kobo/Nook/iBooks/Amazon individually just to see if there's a painfully sharp profit difference, but boy the ease is a major factor here for me. It did take about three weeks for MAGIC & MANNERS to show up on iTunes from when I submitted it, but Nook and Kobo were up within about three working days.
PRINT EDITIONS
To publish a print book through either Amazon or Ingram, you need a PDF of both your cover art and your interior book file, as well as an ISBN. The actual process in both cases is really very simple: fill out the forms, upload the files, wait for them to be okayed, order a print proof edition, and either launch or edit depending on the look of the proof.
I read, and therefore did it this way, that it's necessary to do Ingram first and then Amazon, or Ingram chokes on the ISBN already being used somewhere. I don't know if that's true, but since it takes longer to get things through the Ingram system, it's a good choice to do it that way anyway.
I'm *stupendously* pleased with the quality of the IngramSpark books. I'd seen Harry Connolly's THE GREAT WAY trilogy that he'd had printed with IngramSpark and had been thrilled over their quality, so I was pretty confident of MAGIC & MANNERS looking good…and it does. It's beautiful. The paper is very slightly heavier than mass-printed paper, which gives the books a very slightly weightier feeling than might be strictly considered normal…but judging from the people I've talked to, you really have to be the sort of person who pays a *lot* of attention to the production of a book to notice the difference.
Now: the print side of this is a massive experiment. To summarize one of the stranger things about the publishing industry, if a bookstore doesn't sell a book it can return it to the publisher (or destroy it) and be reimbursed. This is why there's something in publishing contracts called a Reserve Against Returns, which means the publisher holds back some of the money the author is owed in case a lot of books get returned for some reason (as happened to me, for example, with the Negotiator Trilogy when Borders folded). But that's how the system works, and in order to sell books to bookstores, even an independent publisher like myself has to be willing to accept returns.
Right now I'm making about $1 on a print book published through Ingram. However, because it's Print On Demand and the cost of printing each individual book is higher than mass production would be, the cost of a bookstore returning a copy of MAGIC & MANNERS is about $6. So in theory I could lose a lot of money doing print editions, which is fairly nerve-wracking. Also in theory, though, because the books are POD and because bookstores have become more inclined to order fewer books more often rather than a dozen up front, there won't be many returned by the bookstores.
Whether this pans out is going to be a long-term experiment. In *order* for it to *really* pan out, I need to spend a lot more quality time doing promotion, and while I have some ideas on how to pursue that, I don't have a lot of *time* for it, so *wibbles*. We'll see. But I won't know if I don't try, so.
What I do know so far is that two major local bookstores in Ireland have been able to get copies in, that copies are available through Waterstones in the UK and Ireland, that the Canadian bookstore chain Chapters can get it, and that people have gone in to their various smaller local stores and ordered copies successfully as well. Oddly enough I haven't actually had anybody say whether they've picked it up through B&N yet, but it's on the website and B&N uses Ingram so it should certainly be available for ordering through them.
Not all bookstores use Ingram, and it's possible that it's still *best* to go in armed with the ISBN 9781613171059, but it's looking as though it's increasingly available and easy to order through most bookstores, and that's the first stage of this whole experimental process.
MAGIC AND MANNERS for Kobo!
MAGIC AND MANNERS for Kindle!
MAGIC AND MANNERS for Nook!
MAGIC AND MANNERS for iTunes!
MAGIC AND MANNERS print edition on Amazon!
MAGIC AND MANNERS print edition on BN.com!
MAGIC AND MANNERS audio book on Audible!