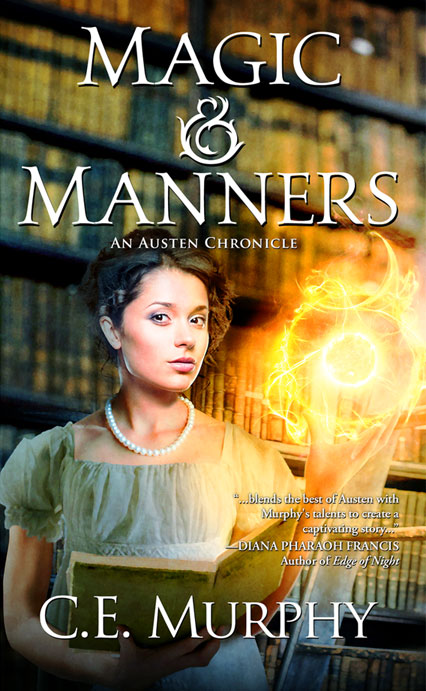 Launch Day: MAGIC & MANNERS
MAGIC & MANNERS is FINALLY! OFFICIALLY! LAUNCHING! TODAY!
MAGIC AND MANNERS for Kobo!
MAGIC AND MANNERS for Kindle!
MAGIC AND MANNERS for Nook!
MAGIC AND MANNERS for iTunes!
MAGIC AND MANNERS print edition on Amazon!
MAGIC AND MANNERS audio book on Audible!
Besides the above links, you should also be able to go into almost any bookstore and order a print edition in. It may be helpful to have the ISBN (9781613171059), and possibly the information that it's available through Ingram (which is a book distributor and basically one of two companies that bookstores get the actual books from), but I know for sure bookstores in Canada and Ireland have been able to order copies in, and that it's available if you go in to Waterstones in the UK/Ireland.
People often ask if it's better for me if they go into a bookstore and order a book or buy it from Amazon or what. Most of the time it really doesn't matter, but in this case, it does!
If you're a person who buys print editions and have the ability/opportunity to go in to a bookstore and order MAGIC & MANNERS, it will notify the bookstores that I have a book out. Because this isn't traditionally published, word of mouth is essentially my only publicity. My sales are pretty good in a lot of stores, and it's possible that if people go in and say "CE Murphy has a new book out, can you order me a copy and consider short-ordering a few for the shelves," that it could do a *lot* of good for this book.
This is the first book I've published in almost two years, and I'm really trying to get my feet back under me to re-ignite writing as a viable career. My readers–you–have kept me going, and this is a wonderful amazing step toward that.
(that sounded really professional and cool and stuff and totally fails to convey my OH MY GOD BOOK NEW BOOK SHINY PRETTY BOOK I WANT EVERYBODY TO READ IT OMG OMG AAAAAAAAAAAAAAH YOU GUYS KEEP HELPING ME MAKE THE MOST AMAZING STUFF HAPPEN OMG OMG OMG THANK YOU I WOULDN'T KNOW WHAT TO DO WITHOUT YOU aspect of all of this. because holy carp, people, you make this happen!)