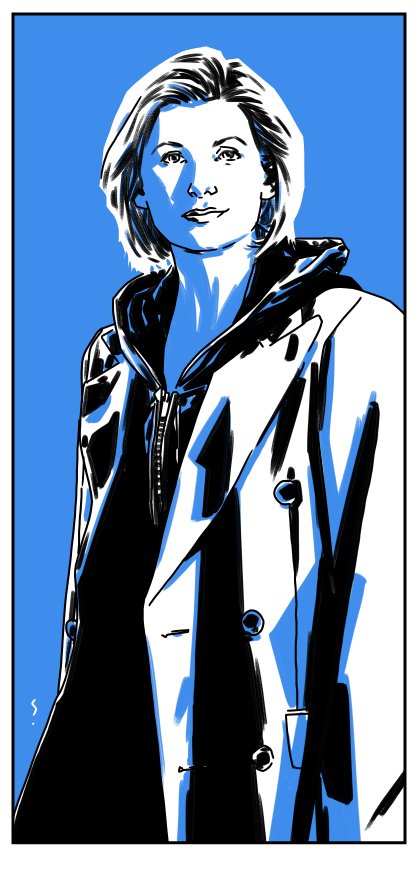 The 13th Doctor: It shouldn't matter, but it does.
Carrie Fisher. Robin Wright. Gal Gadot. Daisy Ridley. Melissa McCarthy & Leslie Jones & Kate McKinnon & Kristen Wigg.
Jodie Whittaker.
It shouldn't matter. It shouldn't matter, but it goddamn well does.
You know why I chose the women I did, up above? You know why I didn't include Weaver & Hamilton & Theron on that list?
Because Ripley and Connor and Furiosa were given to us. They were put on the table by filmmakers who said either "it doesn't matter if this character's a woman or a man," or who specifically chose a woman as the vehicle for the main story. Alien & Terminator were always ours. We didn't have to ask, much less plead and beg, for Ellen Ripley and Sarah Connor. We weren't looking for Furiosa, and Theron came out of nowhere the same way Weaver & Hamilton did.
But Carrie Fisher? Robin Wright? Yeah, Princess Leia & the Princess Bride were integral to their stories, but Buttercup was a pretty passive observer in her own story and Leia wasn't there FOR GIRLS. She was there as the token female. The fact that she had an important role & agency is almost beside the point. I read something recently–maybe in Empire Magazine–where someone said something like "If you think about it, Star Wars is really Leia's story," and all I could think was WOULDN'T IT HAVE BEEN AMAZING IF IT HAD BEEN FILMED THAT WAY?
So General Antiope? General Organa? I feel like we *fought* for them. Diana? Rey? I feel like they're from us saying "we want this so much, we deserve this, we hold up half the fucking sky, people." An all-women Ghostbusters team? We kept saying "oh god please we want this this would be so awesome." And so now, a female Doctor? It feels like another one we fought for.
And it shouldn't have to. We shouldn't have to be pleading for 1/13th of the pie (or less). We shouldn't have to be THIS HAPPY to get it. And yet I am.
And I'm also SO ANGRY that it takes so little, such a crumb, to make me THIS HAPPY, when it shouldn't even be a conversation.
And none of that even STARTS to touch on how 8 of the 9 (or 11/12, depending on how you wanna count it) women I've talked about are white ladies.
I don't want white women to be the only ones gaining ground here. I don't want increments. We don't NEED increments. The actors are there. Storm Reid proves it. Zendaya proves it. Hannah John-Kamen & Frankie Adams prove it. And I want to see women of color in all these big amazing roles and films too. I don't want this to just be a moment for white girls and indistinguishable blondes.
I want more, god damn it. I want it all, for all of us. #GirlPower